Presentation
The only official FIA WEC® App.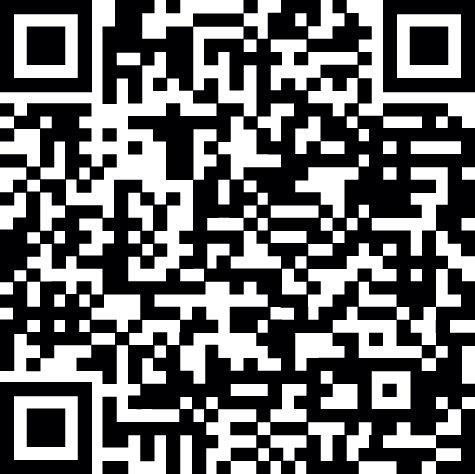 The FIA World Endurance Championship App is designed to bring what you, our fans, want directly to your iPhone, iPad and iPod Touch.

Download this App for free and keep up-to-date with all news from fiawec.com and more, classifications, circuit information, teams and drivers' information, schedules, calendar, pictures, videos from inside, highlights, light live timing and social network sharing of the whole Championship.

To immerse yourself even further into the FIA WEC® experience get the Premium Season Pack available as an In-App purchase. It will allow you to follow the FULL LIVE of each race as well as a FULL DATA TIMING, exclusive contents with onboard cameras and possibility to personalize and follow your favorite drivers and/or teams. Moreover, get full REPLAY with your Season Pack.

Download now the official FIA WEC® app and be part of the game…

The official FIA WEC® app full content is available in English and French. Menu is available in English, French, Japanese, Chinese, Italian, Portuguese, Spanish and Arabic.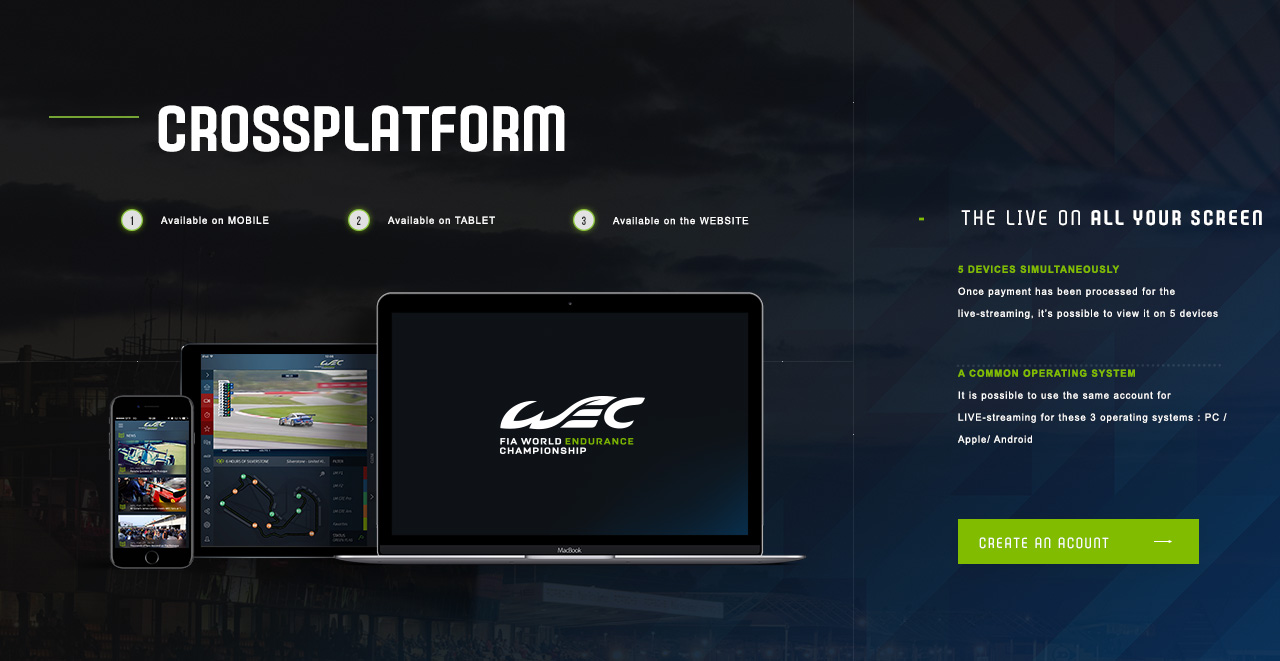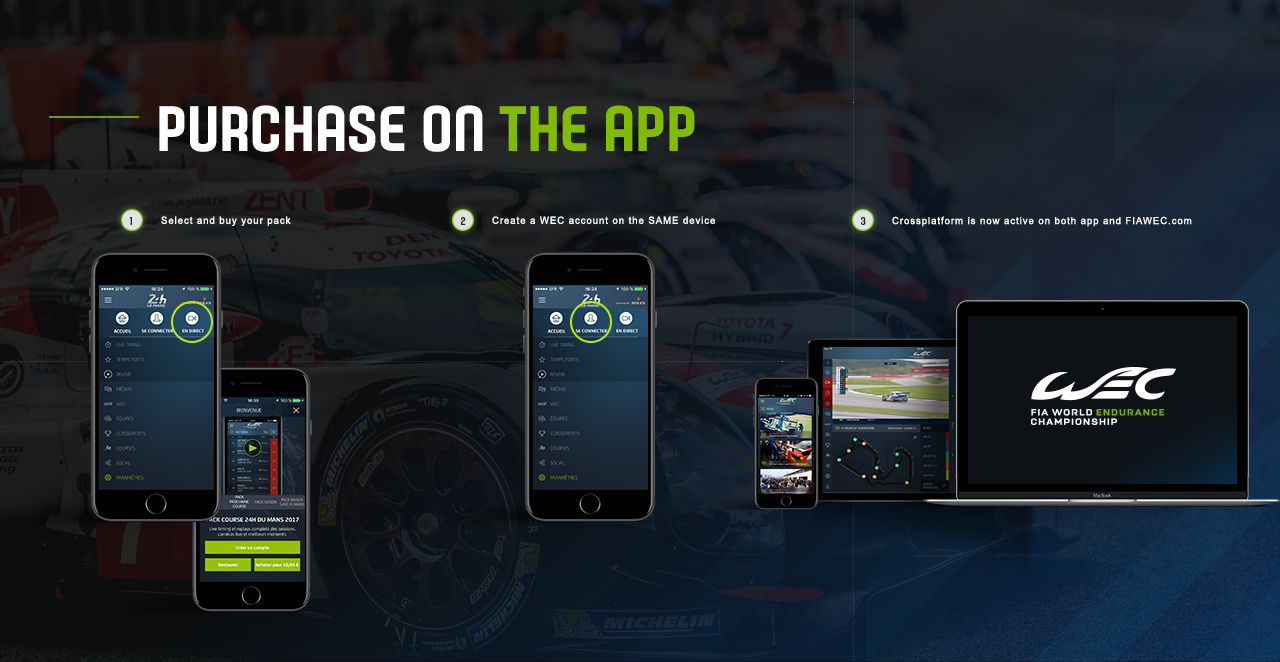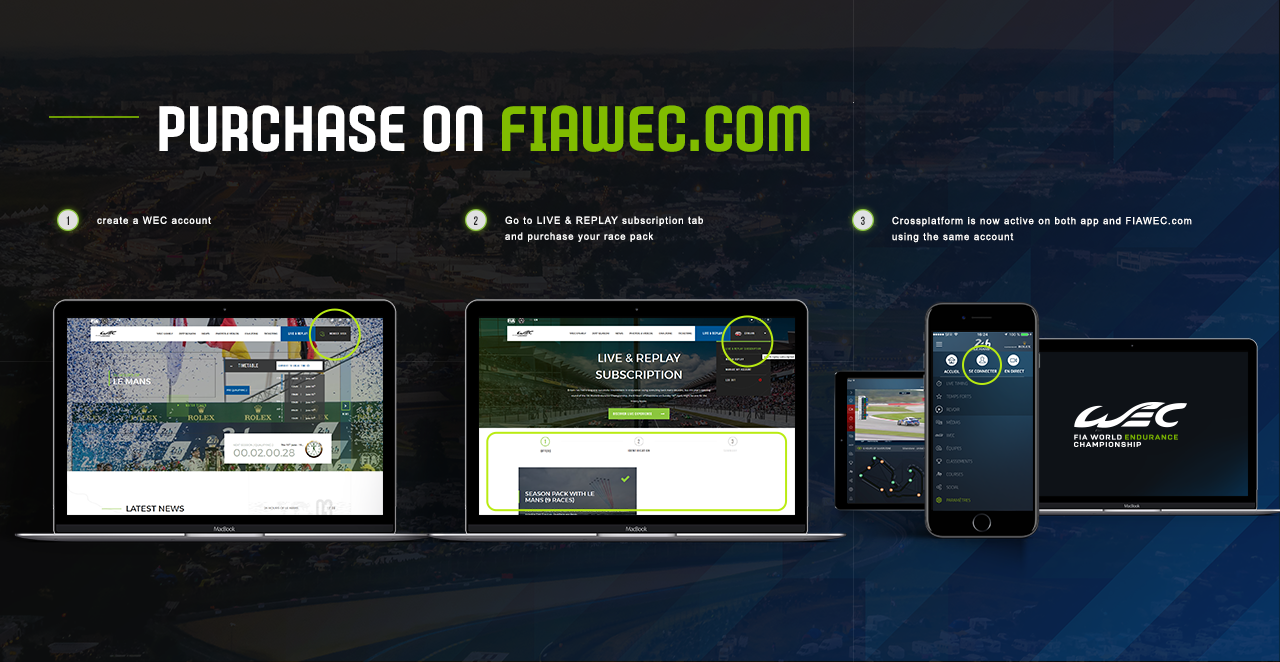 Features
HOME
Next event countdown, news and videos.
LIVE TIMING
Access to the FULL LIVE TIMING including best laps, position in category, gaps, average speed, pits, category filter…
STANDINGS
Including FIA World Endurance Championship standings for drivers, teams, and manufacturers. In this section you can select your categories and/or favorites teams and/or drivers.
MEDIAS
Spectacular videos, exclusive interviews, pictures that can be filtered by interest.
The WEC
A presentation of the World Endurance Championship with the rules, the categories, the partners...
NEWS
Keep informed about what is happening in the FIA World Endurance Championship.
RACES
Get the overall calendar of the FIA World Endurance Championship. And give you an overview of each circuit visited by the FIA WEC®.
TEAM
Detailed information about drivers, teams and manufacturers entered in the Championship.
SOCIAL
Integration of the Facebook page and twitter #FIAWEC feed for more interactivity. Share your feelings, become an actor of the Championship… With Live text.
CONNECT YOURSELF
With new technology,the CROSSPLATEFORM is now possible for your FIAWEC app. You will be able to get connected with 5 devices (tablet/mobile phone/website).
CHROMECAST
Chromecast compatibility with your TV screen.
The Premium Season Pack
LIVE
It includes FULL LIVE COVERAGE of the races and qualifying sessions. The best way to be part of the race at the heart of the action wherever you are!
ONBOARD
Access to onboard camera. Select your favorite car and follow the race from inside the cockpit.
REPLAY
Watch every qualifications & Races in VOD.
Application
iPhone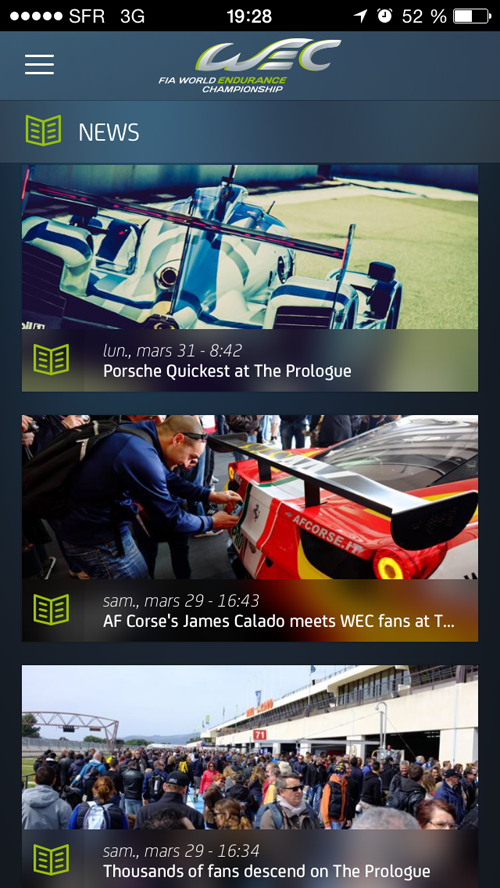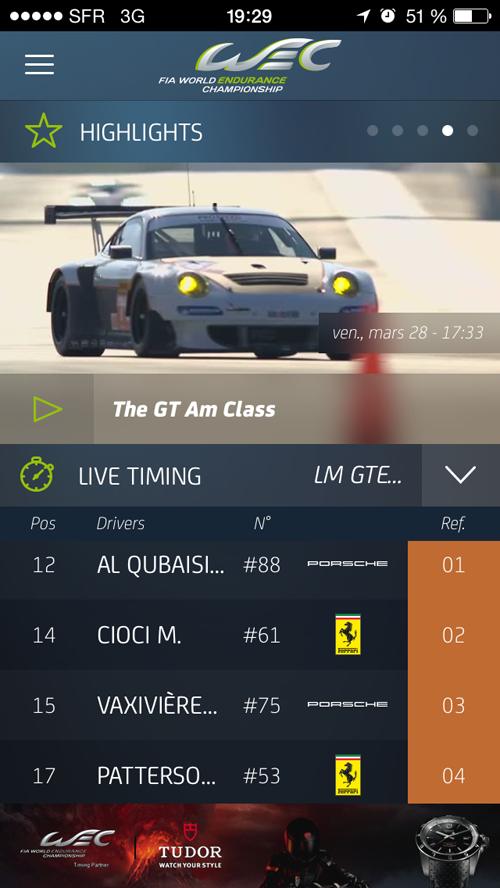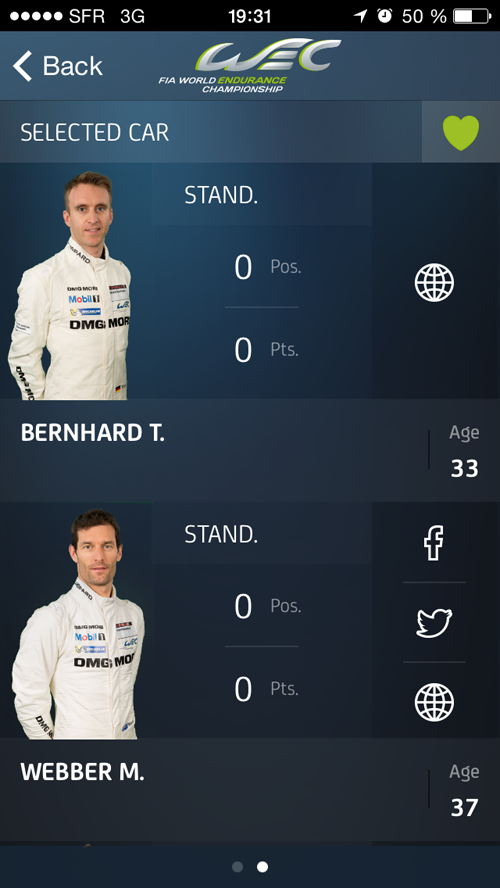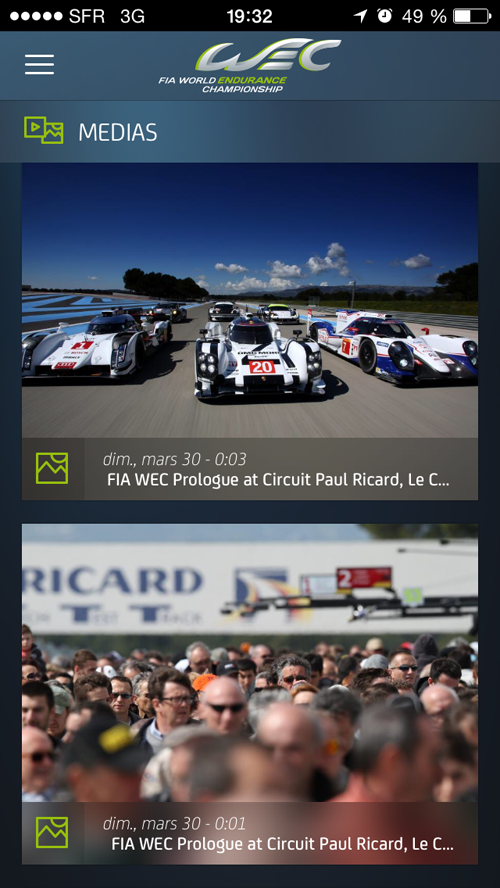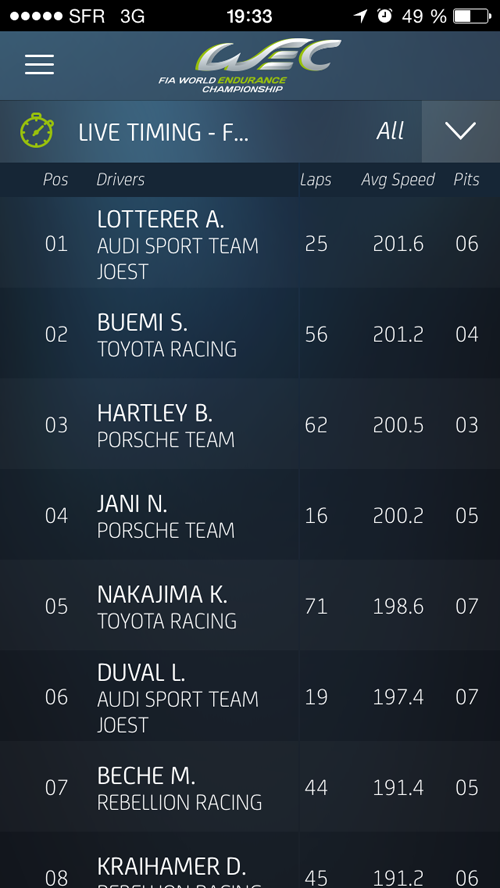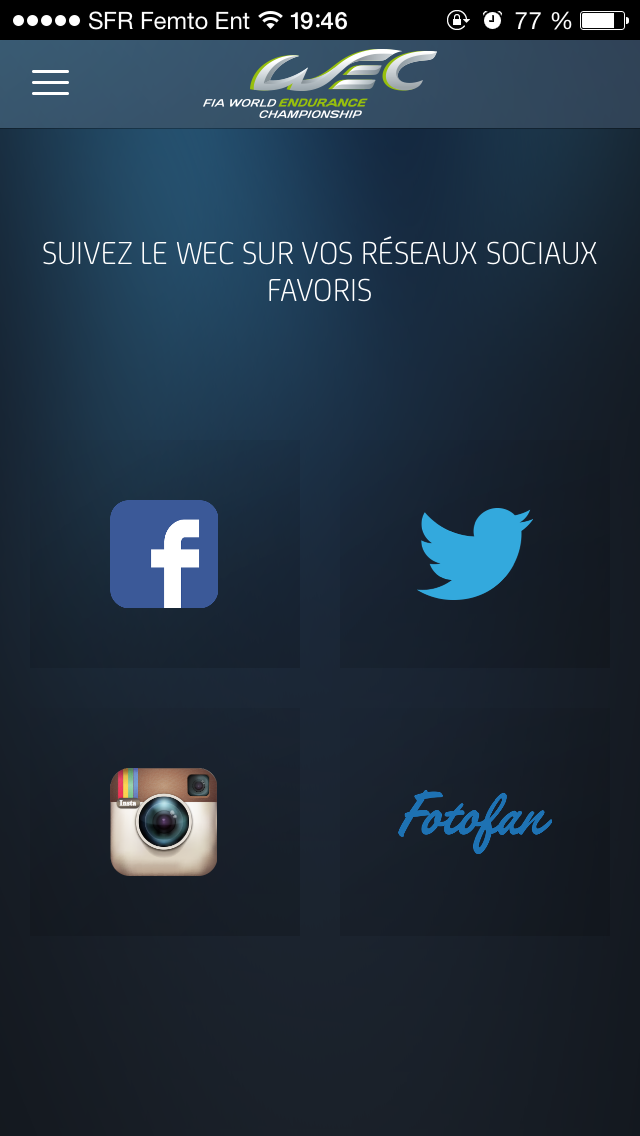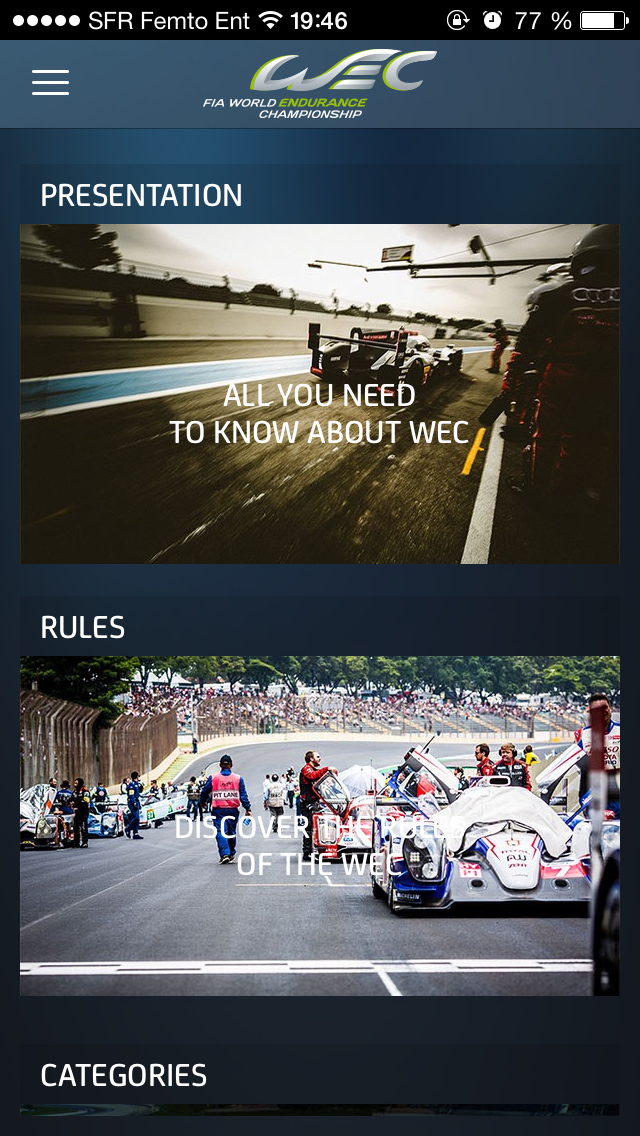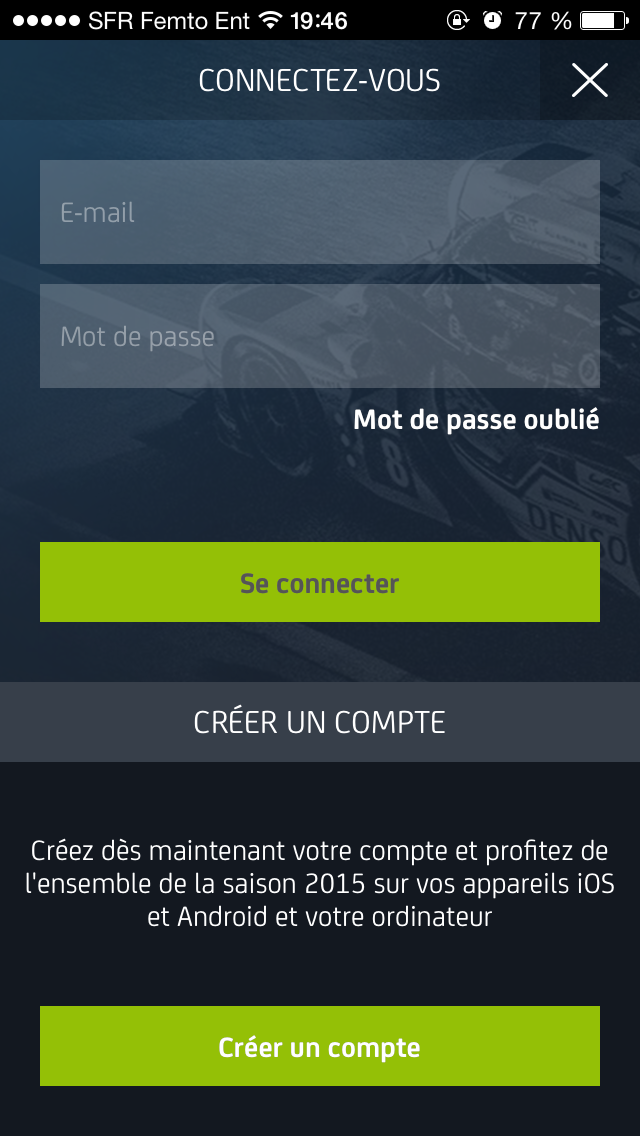 iPad