HYPERCAR
The Hypercar class – which was introduced in 2021 to replace the former LMP1 category - is the top-tier category in the FIA World Endurance Championship.
It is open to both specialised prototypes and cars based around road-going vehicles. Cars have a total combined output (engine + hybrid system if fitted) of 500 kW and a minimum weight of 1030kg.
This class features two types of car:
LMH (Le Mans Hypercar, introduced from 2021)
LMDh (Le Mans Daytona h, introduced from 2022)
The ultimate aim is for these two types of car to compete against each other in the FIA WEC and in the IMSA WeatherTech SportsCar Championship and, therefore, to race in both the 24 Hours of Le Mans and the Rolex 24 at Daytona.
Hypercar regulations leave scope for a wide variety of architectures, including the use of hybrid system either at the front or the rear of the car.
All cars competing in the Hypercar class will be shod with Michelin tyres (exclusive tyre supplier). The budget required to run two cars throughout a WEC season will be at least 60% lower than top flight LMP1 Hybrid programmes.
In LMDh, the backbone of the car – i.e the whole car minus the internal combustion engine, and the hybrid system – will be supplied by one of four chassis manufacturers: Dallara, Ligier, Multimatic or Oreca.
This chassis structure will share a large number of components with the next generation of LMP2s. The common rear-axle hybrid system includes the gearbox and is mandatory. The system is supplied jointly by Bosch, Williams Advanced Engineering and X-Trac.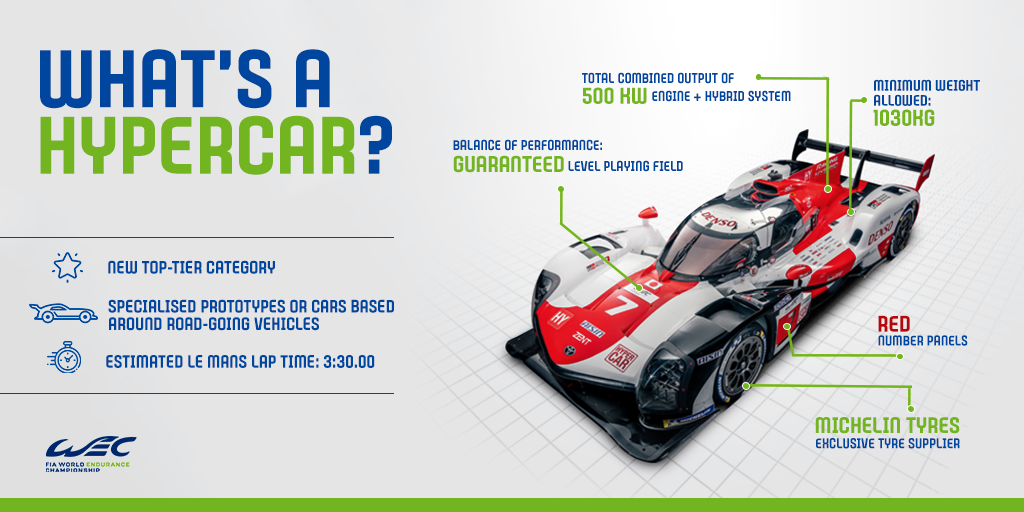 Dimensions
Minimum weight: 1030 KG
Balance of Performance: Guaranteed level playing field
Maximum output: 500 kW
Number panels: Pantone red 653
Single tyre manufacturer: Michelin
Controlled costs: Budget reduced
Le Mans lap time: Estimated race average at 3:30.00

"LE MANS" PROTOTYPE 2 (LMP2) is a racing car with no production minimum required.
It is a closed cockpit car, destined only to teams independent of manufacturers and/or engine suppliers.
The selling price of the complete new car, without engine or homologated electronic equipment, must not exceed €483,000.
Characteristics
Engines
Engine Homologated
Cylinder capacity: 4.2-litre V8 without direct-injection producing 600bhp.
Number panels
Pantone blue 653, with white numbers.
Driver Categories
A crew of 2 or 3 drivers must include at least one Silver or Bronze driver.
Minimum weight
930 kg
Fuel Tank Capacity
75 Litres
Dimensions:
Wheelbase: Free but it must be identical to that registered in the Homologation Form.
Overall length: 4750 mm maximum (rear wing included)
Overall width: 1900 mm maximum
Height: No part of the bodywork is permitted to be more than 1050 mm above the reference surface (See Article 3.5.1)
The front overhang is limited to 1000 mm.
The rear overhang is limited to 750 mm (including the rear wing).
Le Mans Grand Touring Endurance

The Le Mans Grand Touring Endurance (referred to as LMGTE) categories came into being in 2011 and include racing cars derived from street models for everyday road use from some of the most prestigious luxury car manufacturers: Aston Martin, Ferrari and Porsche.
This category includes two groups:
A group destined more especially to professional (LMGTE PRO).
A group destined more especially to amateur drivers (LMGTE AM)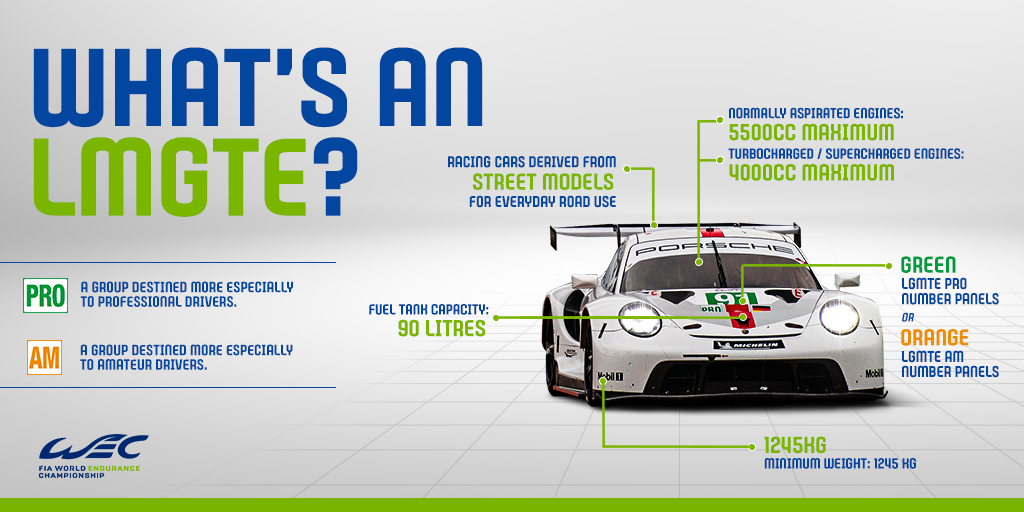 Characteristics
Engines
Normally aspirated engines: 5500 cc maximum
Turbocharged / Supercharged engines: 4000 cc maximum.
Driver categories
LMGTE-Pro: The composition of the crews is free.
LMGTE-Am: A crew of 2 or 3 drivers must include at least 1 Bronze plus 1 Bronze or Silver.
Dimensions
Maximum dimensions:
Overall length: 4800 mm
Front overhang: 1250 mm
Rear overhang: 1100 mm
Overall width: 2050 mm (excluding rear view mirrors)
Number panels
LMGTE-Pro: Pantone green 355, with white numbers.
LMGTE-Am: Pantone orange 021C, with white numbers.
Minimum weight
1245 kg (weight of the car without driver, fuel or fluids on board). The Endurance Committee reserves the right to adjust the minimum weight of any car in order to maintain the Balance of Performance between the cars.
Fuel Tank Capacity
90 litres (subject to Balance of Performance adjustments)