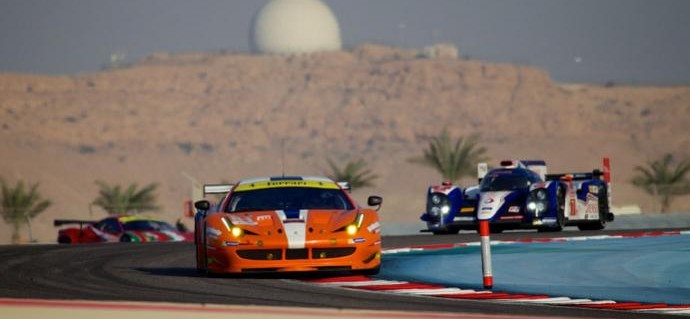 Back
6 Hours Bahrain LMGTE news: 8Star Motorsports win class Teams title
After a thrilling year of global sportscar racing competition, 8Star Motorsports has been crowned LMGTE-Am World Champions of the FIA World Endurance Championship following its fifth podium finish of the season in the title-deciding 6 Hours of Bahrain.
A clean and consistent race for team principal Enzo Potolicchio and co-drivers Rui Aguas and Davide Rigon in the No. 81 Ferrari 458 Italia GT was rewarded with a second place finish in the FIA WEC season finale. With two previous victories on the board, along with a 100 percent finishing record, it was enough to give the Florida-based organization its first championship title.
8Star's story remarkably only began last November, when 2012 FIA WEC LMP2 champion Potolicchio laid out an ambitious plan for a multi-series program stretching all corners of the globe. Success was achieved out of the box, with podium finishes in the team's GRAND-AM Daytona Prototype program, a win in IMSA Prototype Lites, a second place finish in its Prototype Challenge debut at Petit Le Mans and now a World Championship title in the prestigious FIA WEC.
For Potolicchio, it marks back-to-back world titles after leading efforts in the FIA WEC LMP2 championship-winning team last year, while also picking up series rookie-of-the-year honors in 2012. The Venezuelan racer became the first driver to win in two classes in May when he teamed with Aguas and Matteo Malucelli for victory in the 6 Hours of Spa-Francorchamps. 8Star revisited victory lane in Shanghai earlier this month.
All in all, it was a history making year for 8Star, which becomes only the second American team to win a FIA World Championship in the modern era.
"It was an amazing season," Potolicchio said. "We had some great runs along the way but also some bad luck, including a tire puncture at Le Mans, that set us back. We're happy with the teams championship and definitely had a chance to win the drivers championship as well. Honestly, it was our first season here in the WEC and we can be proud of what we accomplished.
"The race today was a tough one for us," the 2012 Le Mans 24 Hours LMP2 class winner continued. "We had a lot of oversteer in the car. We were expecting the Aston Martin to have more tire degradation than they actually had. We have to congratulate them for winning the race. They had three very good drivers. But winning Shanghai and finishing second here, we definitely showed what we were made of and had an incredible crew that got the job done."
From 8Star Motorsports press release
Photo: BAHRAIN INTERNATIONAL CIRCUIT (SAKHIR, BAHRAIN), 6 HOURS OF BAHRAIN, SATURDAY 30 NOVEMBER 3013, RACE.