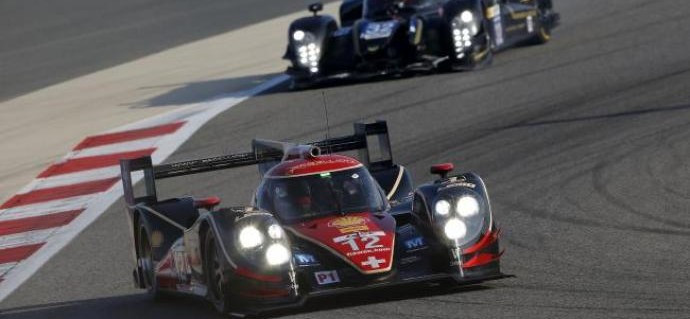 Back
6 Hours Bahrain LMP1 news: Rebellion says goodbye to the Lola Toyota
LMP1 Privateer entrant, REBELLION Racing, was forced to bid an early farewell in Bahrain to the Lola Toyota which it has raced with so successfully in recent years. The final round of the 2013 FIA World Endurance Championship brought the Swiss team's first and only retirement of the year.
Nicolas Prost, Andrea Belicchi and Mathias Beche retired in a fiery fashion due to a mechanical failure after 44 laps having started the race from fifth position. The last round of the season, the 6 Hours of Bahrain saw an unusually high number of DNFs in the premier class of endurance as both factory teams from Toyota and Audi also lost a car with technical failure.

After the qualifying session, the team was optimistic about the final race for the Lola Coupé LMP1. Their best time in qualifying for the #12 car was 1.6 seconds quicker compared to their best qualifying time from a year ago, proving that the team have worked hard until the end to improve the pace of the Lola.

REBELLION Racing achieved all of their targets for this season in both the FIA World Endurance Championship and the American Le Mans Series, winning the FIA Endurance LMP1 Trophy for Privateer Teams for the second time (after the win in 2012).
The Swiss squad won six of the eight rounds in the LMP1 Privateers category, adding a record total of 8 pole positions and, on top of that, achieved two overall podiums at Interlagos and Fuji. In addition, REBELLION Racing won the closing race of the American Le Mans Series in a back-to-back victory at Petit Le Mans and secured a podium at the 12 Hours of Sebring, with a total of four podiums and three pole positions in four races in the USA.

Bart Hayden, REBELLION Racing Team Manager : "For sure, the retirement from the last WEC race of the season is a disappointing way to end what has been a great year for the team. Bahrain was the last race for the Lola and we were wishing for a better ending. But it's done and we will investigate further to know exactly what caused the failure. The parts were sent back to Europe on the Sunday after the race ready to be inspected.
"I want to thank our drivers, they drove sensibly as well as quickly; the engineers and mechanics as they have tuned and prepared the cars to the highest level all year. I'd also like to thank our technical partners : Michelin for the great tyres, Toyota Motorsport GmbH and their colleagues from Toyota Motorsport Division for their unremitting support and our major partners at Rebellion Timepieces and LEMO Connectors. We were successful again this year, and we have all won together.
We are now focused on the 2014 season and our new LMP1 car, the REBELLION R-ONE."

Quote from Rebellion Racing press release.
Photo: BAHRAIN INTERNATIONAL CIRCUIT (SAKHIR, BAHRAIN), 6 HOURS OF BAHRAIN, SATURDAY 30 NOVEMBER 2013.