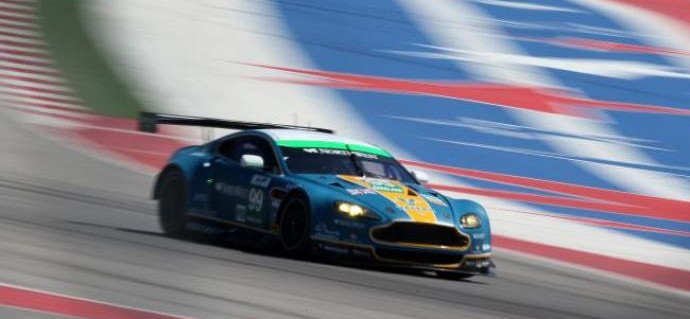 Back
6 Hours COTA: What the GTE drivers said
We depend on, and very much appreciate, the great PR service provided by the teams in terms of gathering news from the drivers. Here is what was provided by the LMGTE teams following the conclusion of the 6 Hours of COTA.
Aston Martin Racing
It was a win in LMGTE Pro for the Brazilian-French pairing of Senna and Makowiecki, plus a win the Am class for the British duo of Campbell-Walter-Hall. The success of these two made up for the disappointments of some of the team's other entries.
Bruno Senna, No.99 Aston Martin Vantage V8 - LMGTE Pro: "That was an awesome weekend! We were quick all week and we were very competitive. It's great to share this WEC win with Fred - it's a proud moment for us. We're both so pleased to be here and we're grateful to our sponsors that made it possible."
Frederic Makowiecki, No.99 Aston Martin Vantage V8 – LMGTE Pro: "Yes, we were really competitive this weekend. We took a gamble with the fuel strategy and double stinted the tyres and it paid off. I'm really happy to win with Bruno – he's a great driver and we were due a win together."
Jamie Campbell-Walter, No.96 Aston Martin Vantage GTE – LMGTE Am: "What a fantastic result! It's a shame again that Roald [Goethe] isn't here but I'm sure he's watching at home. Stuart did a fantastic job and the guys in the pit lane put in a faultless performance. I had a good battle with Kristian [Poulsen] – I had to be careful because he's a team-mate. He put up a good fight but I managed to get past with 15 minutes to go."
Stuart Hall, No.96 Aston Martin Vantage GTE – LMGTE Am: "It was a really close race but Jamie did a mega job. Again, this is for Roald; he was supposed to be here but he had to pull out for a business commitment and we miss him loads. We've just learned that we are now leading the GTE Am championship, which is a great way to head into the final three rounds."
Porsche AG Team Manthey
It wasn't an easy race for the Porsches at the Circuit of the Americas, with the No.92 finishing in 4th and the No.91 in 5th place.
Marc Lieb, No.92 Porsche 911 RSR – LMGTE Pro:"Fourth place is annoying for any race driver. That was not the result we were hoping for. We lacked the consistency today for a podium result."
Richard Lietz, No.92 Porsche 911 RSR – LMGTE Pro: "Our pit crew did a great job today. We were incredibly quick in changing the tyres. Unfortunately we couldn't drive any double stints like many of our opponents. That cost us a great deal of time. On top of that, we simply lacked the engine power on the straights due to the balance of power classification of our 911 RSR."
Joerg Bergmeister, No.91 Porsche 911 RSR – LMGTE Pro: "I was able to match the pace early on. But after our problem during refuelling, our race was practically decided. Still, we managed to earn some championship points."
Patrick Pilet, No.91 Porsche 911 RSR – LMGTE Pro: "After the commotion of the first pit stop there wasn't a lot we could do. It's a shame, because we had a great set-up for the car over the whole weekend and were able to improve from one session to the next."
Quotes from team press releases
Photo: CIRCUIT OF THE AMERICAS (AUSTIN, TEXAS, USA), 6 HOURS OF CIRCUIT OF THE AMERICAS, SUNDAY 22ND SEPTEMBER 2013, RACE. Top - the No.99 Aston Martin Vantage V8 of Senna-Makowiecki won the LMGTE Pro category. Bottom - the LMGTE Am podium (left to right): Kristian Poulsen, Christoffer Nygaard, Nicki Thiim, Jamie Campbell-Walter, John Higgins, Stuart Hall, Jean-Karl Vernay, Raymond Narac.