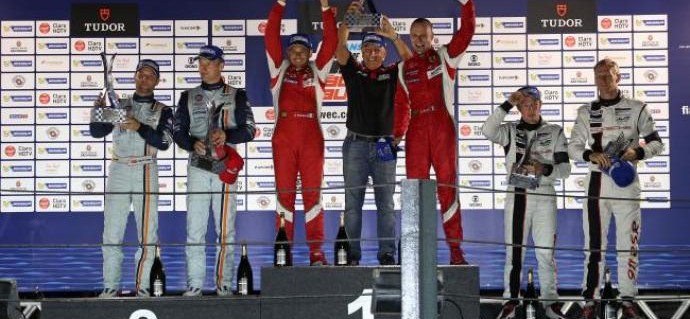 Back
6 Hours of Sao Paulo: What the LMGTE drivers said
AF Corse
Gianmaria Bruni, No.51 AF Corse Ferrari 458 Italia, winner in LMGTE Pro: "It was a very good race and I hope everyone who watched enjoyed it. We started 5th and we managed to do a good start and took the lead after four laps. From there it was always a very close battle and for us our plan was to do qualifying laps each lap, especially at the end when Darren was very, very quick. Our last stint was 42 laps and it was very difficult to manage, keeping him behind us, as they have a very good car.
"I am very happy because, after a bad weekend for many in our team this weekend and at Le Mans, AF Corse and Ferrari have come back. I'm happy for me, Giancarlo and all the team. Unfortunately we lost our sister car, the No.71, in a bad way. At the moment I'm trying to enjoy it because after Le Mans I was very down after what happened to Allan. I want to dedicate this victory to all the people at Maranello and, for sure, to Allan Simonsen."
Aston Martin Racing
Darren Turner, No.97 Aston Martin Vantage V8, 2nd in LMGTE Pro: "That was a humdinger of a race. The start wasn't great - it should really have been a restart. I lost a lot of places but carefully worked my way up to P2. After that it was an battle for the lead, swapping places with the #51 throughout. It was incredibly intense and I had to focus throughout - not one lap was easy. There were no mistakes from either us or the #51 and at the end of six hours there was just 1.4 seconds between us.
"We had great pit stops from the team and Stefan, as usual, was incredible. We're now leading the championship at the halfway mark, which is a great place to be as we head to the Circuit of the Americas for the first time."
Porsche AG Team Manthey
Joerg Bergmeister, No.91 Porsche 911 RSR, 3rd in LMGTE Pro: "That was quite an eventful race. Unfortunately we were lacking some speed on the straights compared to the opposition. Unluckily, when overtaking I was hit by an Aston Martin. This cost me some time - an entire lap in fact. Still, considering that our qualifying was not exactly perfect, third place is a conciliatory result."
Patrick Pilet, No.91 Porsche 911 RSR, 3rd in LMGTE Pro: "We couldn't do much better today. We drove a flawless race, but we simply lack a little top speed. Moreover, we also fell victim to several incidents. We can live with third place. I'm pleased for the team who worked very hard for this."
Marc Lieb, No.92 Porsche 911 RSR, 3rd in LMGTE Pro: "The start was quite chaotic; at the beginning everyone was pretty wild. A Ferrari overtook me somewhat optimistically so I opened the door a little to avoid a collision. When I then tried to counter-attack I assumed he would do me the same for me, but I was wrong. Instead he wrecked my rim. This cost us a lot of time shortly after the start. At the end, we also got a puncture which ultimately cost us a podium spot. Now we need to see that we do better in Austin."
Richard Lietz, No.91 Porsche 911 RSR, 3rd in LMGTE Pro: "The two punctures were of course very unfortunate. Plus we couldn't make up the lost time during the safety car phase, in fact we lost more time. That was a lot of bad luck. The car itself ran well, a podium spot would have been possible. Right now we're pleased for our teammates. Last time we were ahead, now it's their turn – that's what happens in such a balanced team."
Jamie Campbell-Walter, No.96 Aston Martin Vantage V8, winner in LMGTE Am: "It's really good to win our first race of the year here at Interlagos. For Stuart and I it feels like just rewards, we've had a few unlucky races this year. We raced here together in 2007 and finished third, so to come back and win is brilliant. It's also great for Roald [Goethe], as a car collector, to win a race with the #96 Vantage GTE. Many thanks to the team and everyone involved. It's a fantastic result for all of us."
Stuart Hall, No.96 Aston Martin Vantage V8, winner in LMGTE Am: "Yes, it is great to take a win in the WEC. This win is for Roald; it's a shame he's not here to celebrate it with us. He's been so supportive to Jamie and I and we owe this to him. The car has been fantastic today and I've enjoyed every minute of the race."
Krohn Racing
Tracy Krohn, No.57 Ferrari 458 Italia, finished 5th in LMGTE Am: "It was nice to finish. We were very disappointed at the start of the race to get a penalty. I wasn't aware of that in the rules book. Our engine tuner, Michelotto, decided that we needed to change engines because we had an issue. The one we were using was the one I crashed with in practice at Le Mans. After we had an extremely long parc ferme last night, they were running the engine and noticed a very pronounced noise coming out of the top of the engine. Michelotto told us we needed to change the engine, which we did, based on their recommendation. I guess that wasn't a good enough explanation for the FIA. The rules are that if you change engines you have a three minute penalty stop-and-go, however there is some language for force majeure that provides for things you can't foresee. This was an engine that was involved in a wreck before and we kept it. Probably in retrospect we should have changed it then but we'll get to the bottom of that later on. I'm not quite sure how to manage this going forward but I can tell you that we've got to run it for the rest of the season."
Nic Jonsson, No.57 Ferrari 458 Italia, finished 5th in LMGTE Am: "My stints were alright. I was really just out there making sure I was taking care of the equipment and the car because we were already three laps down because of the penalty we got after changing the engine after qualifying, which nobody knew last night. It was a big disappointment to be assessed a penalty after the green flag. Otherwise, the Krohn guys have done a phenomenal job again and gave us a good, solid car. We struggled a bit through practice and qualifying but the car was quite good in the race. I think we definitely had the pace for a podium today. I think the Aston Martin was a little bit in a class of his own but other than them, I think we had the pace to be there with everyone else."
Maurizio Mediani, No.57 Ferrari 458 Italia, finished 5th in LMGTE Am: "The plan was for me to do a double stint. That's why at the beginning of the race I saved a bit of myself and the car to be balanced from the beginning to the end of my stint. But the safety car came out and I had to slow down for much of my stint but it was not a problem. I finally had the opportunity to push three or four laps from the end of my stint and the lap times were quite good and I had a good pace."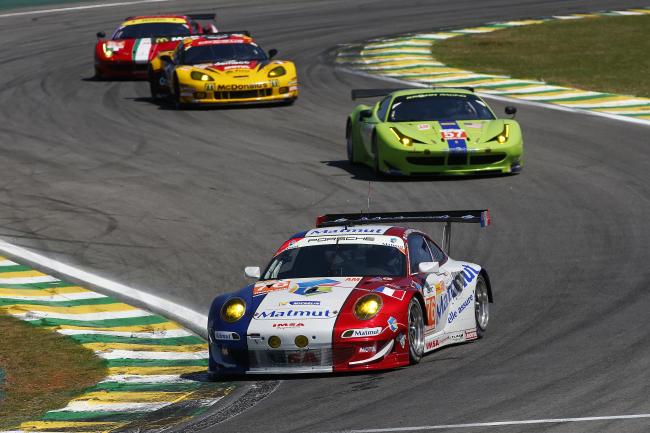 Larbre Competition
Julien Canal, No.50 Corvette C6.R, finished 6th in LMGTE Am: "Qualifying was disappointing, but we had a good car for the race. Unfortunately we lost 10 laps during the first stint due to a technical issue. I took the wheel for a double stint and was fighting with one of the Aston Martins that was a contender for class victory. It couldn't overtake. Despite our lack of straight-line speed my lap times were as fast as the leaders. It's a shame because we could have fought for a place in the top-three. Hopefully we will be back to our best in Austin. It will be time to take our revenge!"
Fernando Rees, No.50 Corvette C6.R, finished 6th in LMGTE Am: "This weekend was a complete paradox for me: inside the car we were never successful, but outside it was a perfect weekend. Since the first practice session on Friday we had huge amounts of understeer in the car, a problem that continued throughout the whole event until the end of the race on Sunday evening. But outside the cockpit it was a truly brilliant atmosphere: so many fans, so much support! In my opinion no event this season has compared with Sao Paulo in terms of proximity with the fans and crowd energy. So it was a whole week of ups and downs. The result was not good at all, but seeing the championship standings now it doesn't look so bad."
Quotes from team press releases except Gianmaria Bruni