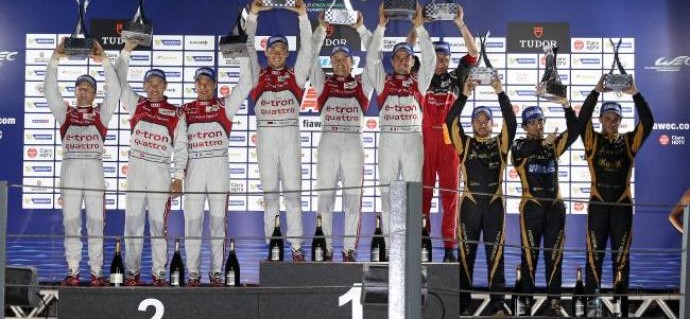 Back
6 Hours of Sao Paulo: What the LMP1 drivers said
Audi Sport Team Joest
Marcel Fässler (Audi R18 e-tron quattro #1, 1st):"It's good to be back on the top spot of the podium again. It was a race with a large number of incidents. We were fortunate and had no problems whatsoever. That's why in the final phase we hardly had any more pressure from behind and were able to bring victory home. We all did a good job. I'm sorry for the #2 Audi but that has brought us a bit closer to the Championship."

André Lotterer (Audi R18 e-tron quattro #1, 1st): "It was very important for us to recover as many points as possible. Of course the priority was to have an Audi win. We managed that even though it was a very difficult race for car number 2. It's a shame that the Toyota retired because it wasn't quite as thrilling anymore afterward. The whole team did a great job. We can be pleased."

Benoît Tréluyer (Audi R18 e-tron quattro #1, 1st): "We're very happy after things didn't go so well anymore for our car number 1 most recently at Le Mans. Obviously, we benefited a bit from the misfortune of the others today as well. That's why I didn't have to take as many risks in traffic and was driving with a safety cushion. A big 'thank you' goes to my team-mates, the mechanics and the engineers for their first-rate job."

Loïc Duval (Audi R18 e-tron quattro #2, 2nd): "I think we weren't the fastest today. We've got to analyze that. It's a shame that we were unfortunate with the safety car period in the beginning. In addition, I lost the right rear wheel after my first pit stop. When I returned to the pits again afterward the speed sensor wasn't working and I was a bit too fast in the pit lane. After having to sit two stop-and-go penalties we had no chance of a better place anymore. In the end, we were fortunate to have still finished as the runners-up. If Toyota had fielded a second car today it would have become difficult. In total, it was a good race for Audi."

Tom Kristensen (Audi R18 e-tron quattro #2, 2nd): "This race result shows how much detailed work was done in the winter. Last year, we were beaten here by Toyota but this year we showed strong performances. Of course it's a shame that the Toyota retired so early. Unfortunately, there were several circumstances that prevented number 2 from being able to win today. After unfortunate situations behind the safety car and two time penalties it was almost a small stroke of luck that we still managed to finish in second place. And the Championship remains interesting."

Allan McNish (Audi R18 e-tron quattro #2, 2nd): "After a good start for our two Audi cars our competitor Toyota unfortunately retired. I was easily able to control the race and I built a bit of an advantage. But then the tables unfortunately turned. A wheel came off and two penalties followed. Afterward, it was only about safely scoring our points for the Championship. Congratulations to Audi on winning on this track."
Rebellion Racing
Nicolas PROST (No.12 Rebellion Lola Toyota, 3rd overall): "It's a fantastic achievement to finish third overall. We've won many races in the FIA Endurance LMP1 Trophy as a Privateer with a lot of fourth place overall finishes. It's good to reach the podium this time. The podium was our aim before coming to Sao Paulo and it's nice to get it. The team have worked very well all weekend, it's a great result for us."

Nick HEIDFELD (No.12 Rebellion Lola Toyota, 3rd overall): "I am really pleased with this podium here at Sao Paulo. We have been able to work on different set ups with the car since we had no competition in the Privateers. We have learned a lot about the car and that is another good side from this weekend. Driving with other drivers and working with the engineers that have been on the sister car in the first half of the season provided new perspectives for us. After the Toyota was out, I had a clean race and took more attention while overtaking cars than usual. This podium is a great reward for the team that have lifted their level in the past two/three years and will give us more motivation for the remaining races and next year."
Toyota Racing
Stéphane Sarrazin (No.8 Toyota TS030 Hybrid, DNF) : "I am very disappointed for the team; I am very sorry. I was doing my race and I was lapping the LMP2 car in a normal place. He lost control of his car and crashed into me. What can I do? I did my very best to get the car back to the box but it was impossible. It's a very bad day for us. I am so disappointed because we thought we would be part of a great fight today."
Anthony Davidson did not drive in the 6 Hours of Sao Paulo.
Quotes from team press releases