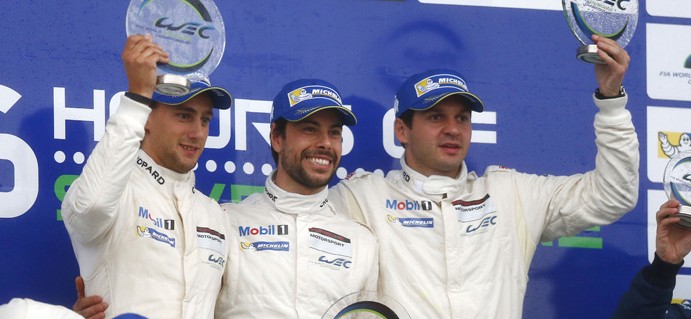 Back
6 Hrs Silverstone: LMGTE Pro and Am news round up
Porsche Team Manthey
Scoring a double victory at the six-hour race in Silverstone at the season-opening round of the sports car World Endurance Championship WEC, the Porsche Team Manthey made an excellent start to the season. Facing difficult conditions on the storied British circuit, Porsche works drivers Marco Holzer (Germany), Frédéric Makowiecki (France) and Richard Lietz (Austria) won the well-supported GTE-Pro class with the Porsche 911 RSR. Their factory pilot colleagues Patrick Pilet (France), Joerg Bergmeister (Germany) and Nick Tandy (Great Britain) finished the hotly-contested first race in second place.

At the Silverstone Circuit, spectators witnessed a gripping race with changeable weather conditions from start to finish. Taking up the race from the first grid row at the wheel of the #91 Porsche 911 RSR, Nick Tandy took the GT lead for the first time in lap eleven. A stop-and-go penalty, which his teammate Joerg Bergmeister served after the driver change, saw them lose their lead for just a brief time. Over the remainder of the race, the 470 hp winning racers from Weissach, based on the seventh generation of the iconic 911 sports car, often swapped positions for the lead spot. In the end it was newcomer Frédéric Makowiecki who settled at the front of the pack and brought home this important maiden win of the season at his very first race as a Porsche factory driver.

For all further news and driver quotes, please click HERE
Aston Martin Racing
Three of Aston Martin Racing's four Vantage GTEs finished in podium positions in the opening round of the FIA World Endurance Championship (WEC), the Six Hours of Silverstone, after finishing first and second in the GTE Am class and third and seventh in the GTE Pro class thanks to great strategy in the changing weather conditions.
The #95 Young Driver Vantage GTE returns for a second season with Danish drivers Nicki Thiim, Kristian Poulsen and newcomer to the team David Heinemeier Hansson and has its sights firmly set on the championship win. After finishing its opening race of the year in first place in class, it is firmly on track.
To read more about Aston Martin Racing's news in both LMGTE Pro and Am, click HERE
8Star Motorsport
Enzo Potolicchio and 8Star Motorsports showed a great turn of speed, but were ultimately foiled by a driveshaft failure in the rain-shortened opening round of the 2014 FIA World Endurance Championship (WEC) – the 6 Hours of Silverstone (19-20 April).

Venezuelan racer Potolicchio and his Italian teammates Paolo Ruberti and Gianluca Roda were remarkably equal in terms of performance and the pace they had over the course of an average stint was consistently solid throughout free practice.
For more 8Star Motorsport news, click HERE