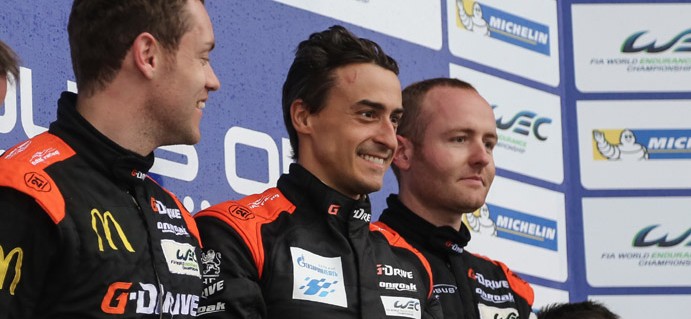 Back
6 Hrs Silverstone: Wet WEC LMP2 win for G-Drive Racing
G-Drive Racing, with the #26 Morgan-Nissan LMP2, developed by Onroak Automotive and racing on Dunlop tyres, has secured its first LMP2 class victory of the World Endurance Championship season at a very wet Silverstone.
Having qualified on pole in LMP2, 9th on the overall grid, the team managed to overcome the changeable conditions and a few minor issues early on, to end the race with a class win and 5th overall.
The overcast skies were omens of what was to come at Silverstone, bringing tricky conditions and extra challenges to the G-Drive Racing drivers Julien Canal, Olivier Pla and Roman Rusinov. Despite technical issues at the start, strategy and consistency helped them to secure their first win of the season.
The Morgan-Nissan LMP2 held its own against the competition of the three Oreca-Nissan LM P2 cars, keeping pace and showing how competitive and reliable it is.
Olivier Pla took the start and comfortably held on to the lead in LMP2 until the first pit stop, which arrived a bit earlier than planned, due to the rain. Because of an issue with the headlights which they had to fix, they lost the lead, and rejoined the race in 2nd place, 55 seconds behind the #47 KCMG Oreca 03 Nissan LMP2.
After Pla's double stint, they suffered another long pitstop to change the bonnet on the car, fixing the headlights again, which widened the gap to the class leader. Rusinov then took over, and managed to keep hold of second place, as the SMP Racing LMP2s suffered problems on track.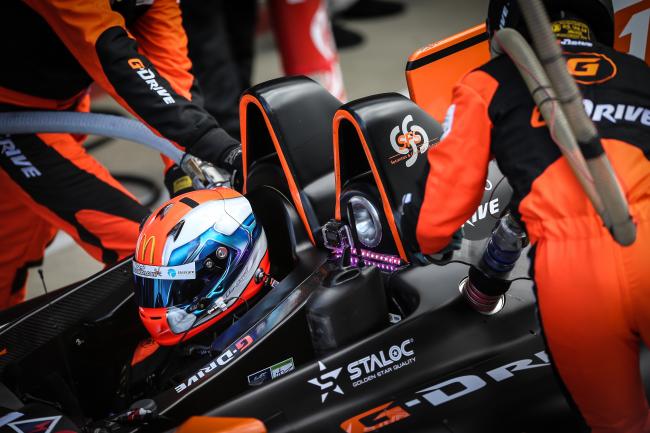 At the halfway mark, a real battle of endurance was taking place between the #47 and #26, with Rusinov slowly gaining ground on the #47, having managed to stay within 1m20s of his rival. A good third pit stop by the crew won them another ten seconds, with Rusinov starting his 2nd stint.
When Rusinov handed over to Canal at the start of the 4th hour, the safety car came out, providing G-Drive Racing with the perfect opportunity to close the gap to the LM P2 class leader. Within laps of the end of the safety car session, the gap had closed to mere seconds, and a fierce battle ensued for the lead, and for 5th position overall. With the gap closing ever smaller, only occasionally hindered by overtaking traffic and the faster LMP1 cars, silver driver Julien Canal held strong and kept the #26 on track, never losing sight of the #47 KCMG Oreca Nissan. In the 5th hour, combining a speedy pitstop for Canal, and a stop and go penalty for the #47, the #26 managed to take back the lead in LMP2.
Handing over to Pla for the last stint, they kept hold of the lead, and with the conditions deteriorating in the last half hour, the race was red flagged; with a gap of over two minutes, the #26 Morgan Nissan LMP2 ended with a comfortable win after a tough battle.
Julien Canal : « I'm very happy to have won this race in LMP2. The conditions were rather hard. We started the race with a headlight that wasn't working, and we had to change the bonnet. The leader got away, but we managed to get the lead again after the safety car. I am happy with my performance; it's not easy to start in LMP2 with the big boys. Olivier did a very good job, and Roman raced well too. I think we didn't make any mistakes, and it paid off! »
Olivier Pla : « 1st race at the WEC and 1st victory, we couldn't have hoped for a better result, even though it wasn't as straightforward as that. It started really well, and we could cope, but then we had an issue and we had to change the bonnet to fix the front headlight which burnt out, and so we had to follow the rules and change it immediately, which made us lose a lot of time. With the rain which came to bother us now and then, it really wasn't easy. The car was perfect, and everything was under control. It was great to start like this and I hope it's just the start of a long string of wins. »
Roman Rusinov : « I think it was a very tough race. I ran on a wet track with slicks! There were moments when things could have gone wrong, because the rain kept starting and stopping, and occasionally, you would arrive in a corner, where it had been completely dry before, and it slid like crazy. I had a few frights. It was tough with the traffic, but I think the team did a good job. Even though we had a few problems during the pit stops, I think we managed the race well, and won. »
Philippe Dumas, Team Principal : « As we've seen, it's not been the easiest of races, despite the little amount of cars. There were points at stake, and we took the maximum, so I can say that we fulfilled our contract. There are a lot of things to work on and improve. That it's motorsport, nothing is won from the start. It's a victory for G-Drive and for Onroak Automotive, and I'm very happy with our drivers who did an excellent job. »
From G-Drive Racing press release