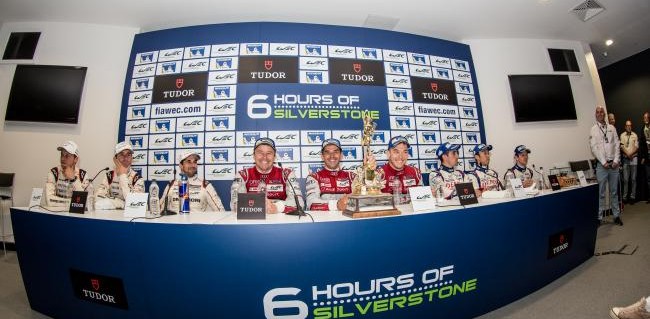 Back
Driver quotes after sensational opening race
Marcel Fassler – Audi Sport Team Joest
"I must say this (the battle with Jani) was one of the best fights I have had in my whole career and I really enjoyed this whole race today. I have to say it was pretty fair from Neel who gave space and I think we raced well together. I must say it was a bit annoying him passing me on the straights like that! It was really a nice race to drive and I think what we showed today was great."
Anthony Davidson – Toyota Racing
"I think we had to double stint the tyres to stay in the fight today. This forced everyone else to give it a go as well. Once the fuel had gone in the car it felt pretty much the same as it had at the end of the first stint and my second one was actually faster than the first stint.
"Hopefully when we get to some circuits where tyre-wear is a bit more critical than here at Silverstone where it is pretty kind on tyres, we can get in to a position where we can have an advantage again. But overall we have always seemed to struggle here at Silverstone."
Neel Jani – Porsche Team
"I definitely enjoyed the race with Marcel today, especially as I know we can trust each other driving side-by-side without actually touching. Obviously I couldn't avoid smiling on the straights each time I went by him!
"I think at the beginning we struggled a little bit with brake temperature issues but we got it back under control and it started to get better and better and I could pick up the pace. For sure it was a great sportscar race and all three manufacturers are all very close. We have to push because it is a six-our sprint race."
Roman Rusinov – G-Drive Racing
"Sam (Bird) did the perfect job today so I have to say thank you to him and also to Julien (Canal) who was also very good. We just didn't take any risks as we know we have a good car. But I had some problems with the Strakka because when I was lapping this car it was touching me and I lost 8-seconds which was not too bad. But the team were excellent again all weekend and we are very happy."
Toni Vilander – AF Corse
"It has been a great end to what was a very awkward weekend for us. We had a lot of issues on Friday and also Saturday and we changed half of the car. In FP2 I did not drive a single lap and then on Saturday morning it was raining.
"Pitting under the full course yellow for sure helped us and it was a big part of the race for us. At the end of the day we never gave up. It was a big fight and it shows this year it will be a tough battle in LMGTE Pro. Going to Spa we will have to improve a few things. But thanks to the team here for a great job and some hard work which paid off."
Mathias Lauda – Aston Martin Racing
"For me it was all new to race with LMP1 cars and to be honest the speed difference shocked me a lot. To manage the traffic from behind was tough. But my goal was to make a clean race and keep it consistent and it all worked out mainly thanks to Pedro's good work. In the end it was a good win but I think we will have to push more for the next race."