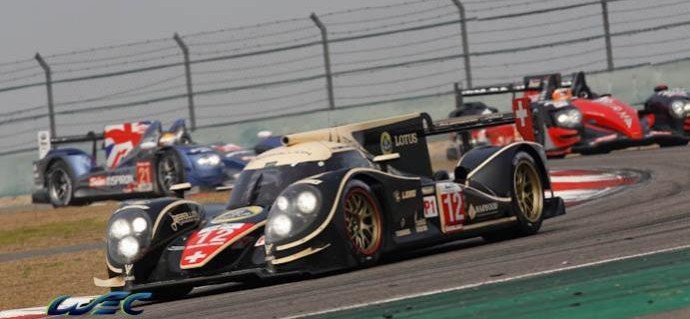 Back
Hour2: Toyota extends its lead
Toyota continues to hold the lead in the 6 Hours of Shanghai, with Nicolas Lapierre having now handed the wheel of the No.7 Toyota TS030 Hybrid to Alex Wurz. The Austrian's lead over Tom Kristensen in the No.2 Audi R18 e-tron quattro as the clock turned towards the end of the second hour of the race was 50 seconds. Traction, traffic and performance are all playing a part in the order at the front of the field.
Rebellion Racing's No.12 Lola Toyota still holds an advantage among the LMP1 Privateers over the two HPD ARX 03a twins of JRM and Strakka, the two British teams having swapped places in the order after Strakka were forced to make an extra stop after damage to the rear of the car following contact with an Audi. Nicolas Prost is at the wheel of the Swiss FIA Endurance Trophy holders in this class now, having taken over from Neel Jani.
The original pole sitting LMP2 No.32 Lotus has experienced brake problems which delayed it considerably, and its sister car has also had a spin off track, but there are no such problems for OAK Racing's No.24 Morgan Nissan and the No.25 ADR-Delta car which are currently first and second in class. There is just under three seconds separating Matthieu Lahaye and Matthias Beche in these two cars, and Pierre Kaffer's No.49 Pecom Racing Oreca Nissan has now climbed through the order to third in class.
Stefan Mucke in the No.97 Aston Martin Vantage V8 has fallen back to third in LMGTE Pro but Marc Lieb in the No.77 Porsche and Gianmaria Bruni in the No.51 are still owed a pit stop. The battle between all competitors in this class continues to be close and unpredictable.
In LMGTE Am, Larbre Competition's No.50 has come to the forefront of the class, but Team Felbermayr Proton's different pit strategy should see the No.88 of Christian Ried back in the lead again once the pit stops have all taken place. Krohn Racing's No.57 Ferrari 458 Italia is currently holding third place.
Track Data
Air t° :22.1°C
Track t° :23.9°C
Wind :NW at 4.8 kph
Humidity :56%
Michelin Green X Challenge Top 3 at the end of Hour 2
2-1-21
RACE FACTS – HOUR 2
12:00:28 : #97 Aston Martin makes first scheduled stop on 59th minute of race
12:05:35 : AF Corse #51 is the final GTE Pro car to make first pit stop
12:11:08 : Currently 25 second lead for Toyota #7 on Audi #2.
12:13:09 : Krohn Racing Ferrari #57 lap 32 and #61 AF Corse Waltrip are final GT cars to make ascheduled stop.
12:15:06 : No action by race stewards as a result of contact between #44 and #77
12:16:42 : Treluyer in Audi #1 momentarily runs wide off circuit, no harm done just lost time.
12:19:37 : Lahaye in Oak Morgan-Nissan #24 continues to lead LMP2 about 5s ahead of Beche in ADR-Delta #25
12:23:01 : Lapierre in #7 Toyota TS030 expected to make 2nd stop soon.
12:26:08 : #29 Gulf Racing Middle East Lola Nissan into pit garage with problems
12:29:15 : Fastest lap by Nicolas Lapierre on lap 2 still stands 1:49.071, but he just did a lap only 0.2s slower
12:31:28 : Full service for Toyota #7 as it makes 2nd stop on lap 48 - Change of driver as Wurz takes over (1:12s)
12:34:01 : Lapierre, just out of #7 Toyota reports a lot of pick-up on tyres
12:39:24 : Audi #2 McNish and #1 Audi of Treluyer are now less than a second apart. They are due into pits in about 3 or 4 laps time.
12:41:42 : Leading Privateer Rebellion #12 into pitlane - Prost takes over from Jani
12:45:15 : Both Audis into pitlane nose to tail
12:46:54 : Kristensen takes over #2 and Fassler is now in #1 Audi
12:50:51 : Spin for Schultis in #31 Lotus, rejoins with no visible damage
12:54:21 : After the second round of prototype pit stops, Wurz in the Toyota #7 leads by 55s from Tom Kristensen in Audi #2
12:57:09 : #24 Oak in LMP2 lead now down to 5.3s from ADR-Delta #25
12:58:54 : Problems for Strakka #21 as it makes an extra stop after only about 10 lap stint
13:00:11 : Lotus #32 into pit garage for repairs (possibly due to contact)
Fiona Miller
Photo: SHANGHAI INTERNATIONAL CIRCUIT (SHANGHAI, CHINA), 6 HOURS OF SHANGHAI, SUNDAY 28TH OCTOBER, RACE. The No.12 Rebellion Racing Lola-Toyota continues to lead the LMP1 Privateer teams.