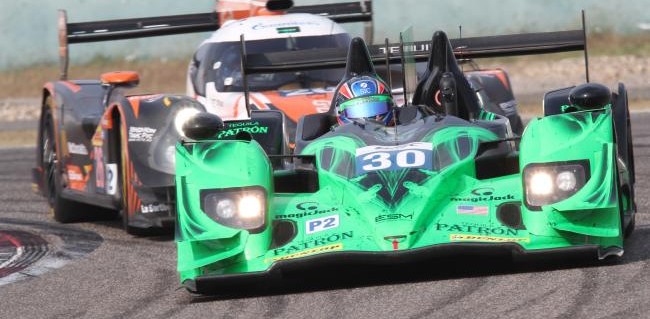 Back
More than a race – Ryan Dalziel's Shanghai diary
Extreme Speed Motorsport's Ryan Dalziel shares with us a deeper look into what happened to him and his team over the 6 Hours of Shanghai weekend. The American team was making its second appearance in the FIA WEC, but the first overseas, and it was a voyage of discovery for the Scottish driver.
Friday 31st October
The Extreme Speed Motorsports team had been out in China for a week and more, getting everything prepped for the big weekend. It was the first race for the team outside of the US so there were a lot of things to consider, but needless to say they were all passed with flying colours.
I was blown away by how well organised the team was even before we started running. We were out of our comfort zone in Shanghai but the team rose to the challenge magnificently.
After COTA we felt that our race pace was good, but when you do not have a full race programme as we do in 2014, it always takes a while to get up to the optimum speed. The COTA weekend was ultimately a little disappointing even though we gave a good account of ourselves at stages and came away with a podium position.
With changing track conditions meaning very little dry running, we didn't change the Tequila Patrón Honda Performance Development ARX-03b at all really. We felt early on that we had the right package to aim for a podium. The G-Drive Racing Ligier is obviously a 2015 car and it was always going to be difficult to try and match those guys. Still, you always want to win and you never know in endurance racing, so that essentially was the aim.
As it was just our second ever FIA World Endurance Championship race, we were still very much on a learning curve in every aspect. But still we felt good in Free Practice where the key was for Scott (Sharp) and Ricardo (Gonzalez) to get to grips with the circuit in the HPD LMP2 car.
Everything went pretty well in our sessions as the car was reasonably well balanced out of the box. With the forecast dry for raceday we did a minimum amount of running in the car because there was just no point in risking anything in what were pretty treacherous conditions.
Saturday 1st November
Qualifying was disappointing for us despite it starting brightly. I was able to do some good laps but then on Scott's run something came loose at the rear and we had to pit earlier than anticipated. This left us starting fifth in the LMP2 class but we knew that in the race we would be okay with our pace.
Our engineer is Steve Challis who has a wealth of experience in motorsport, from F1, CART and various sportscar teams. Steve is notorious for seeing the big picture in terms of getting a car set up for an endurance race. We wanted to extract the best from the tyres over a double stint and one of the key philosophies was for us to ensure we had a car that was relatively easy on the tyres.
Away from the track we had a great party in downtown Shanghai. Patrón does things properly when it comes to events, parties, activations and promotional get-togethers. We had a great time and the entertainment and vibe was typically Patrón – vibrant and distinctive.
Sunday 2nd November
It was nice to see some sunshine as the race started in Shanghai and it boded well for our race plan.
I started the race and we knew that although it might be a bit of a stretch for the Honda engine, a six-stop race was the plan for us. With the early safety car for the accident on lap one that became easier for us and after the race settled it looked like the target was going to be third place, just like COTA.
We should have been in second place on merit but Scott had to make an early pit stop after some bodywork came loose (the damper hatch cover). But when I got in for the last stint and a half the car was really fast. I set some great times and the team informed me that I needed to get approximately forty seconds on the SMP car to stay in third place. But our Tequila Patron HPD ARX-03b was so quick that the forty seconds soon became forty-five and then fifty and so on. This put us in contention for second position straight away.
Steve (Challis) then came on the radio and said that a few more seconds would get us out in second place, so I pushed hard again and all the stars became aligned for us, which was mega!
The Tequila Patrón Honda Performance Development ARX-03b always seems to come to life throughout the race. It is a great car and the fact remained that our success at Shanghai was tempered a little by the realisation, that in all likelihood, it would be the last time I would drive it. As I got out of the car I gave it a little pat on the cockpit to say thanks. The design has been good to me and I will never forget her!
To add to the feeling of satisfaction after the podium, I found out that I had won the Radio Le Mans 'Spirit of the Race' again (RD also won it at COTA). It was nice to be recognised by the fans, it means a lot.
Now though, we are ready to embrace a new era with the HPD coupé. I think I speak for the team, as well as myself, when I say we cannot wait for the 2015 season to start.
Ryan Dalziel was talking to Sam Smith