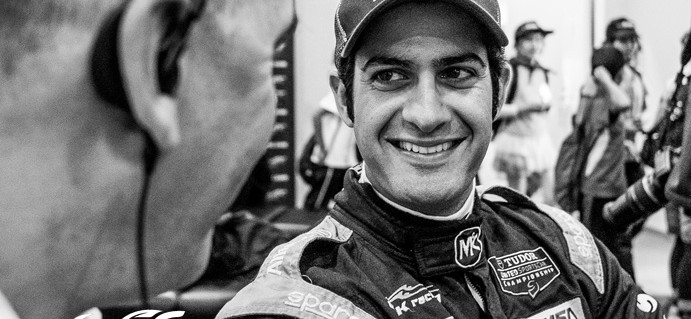 Back
Podium on WEC Debut for Gustavo Yacaman
Colombian sportscar driver Gustavo Yacaman made his FIA World Endurance Championship debut at the 6 Hours of Fuji, driving the no35 Oak Racing Morgan Judd with Alex Brundle and Keiko Ihara. The trio started the race from the back of the grid after a technical infringement cancelled their qualifying times. However, after a dramatic race the 23-year-old driver from Cali in Colombia was able to stand on the 3rd step of the LMP2 podium. Gustavo Yacaman spoke to us just before the start of the race.
"This my first time in Japan, my first time in Fuji, my first time in WEC and the track is a lot more technical than it seems but it's a lot of fun and I love being here. I've done a lot of endurance racing in the US in the United Sports Car Championship and Grand Am, I also did a race in the ELMS at the beginning of the year but it is very cool to be around the P1 cars, to see all of that technology and to race alongside them. The ELMS was my first time racing against LMP2s because in the US we are racing against the Daytona Prototypes and it is completely different racing. I'm really excited to be here and back to racing just P2 cars.
"Endurance racing is the only racing we know in Colombia. Obviously with Montoya having been in F1, there is awareness of other motorsport, but the most important race in my country is the Bogota 6 Hours and there are around 80 cars on track on a 3km long circuit, so it's lots and lots of traffic but it is the most popular race in Colombia and in the whole of South America in club racing and everyone loves it.
"I feel very comfortable here as I have driven the Morgan a lot in the US and we have the same engineer here as we have in the US, so it doesn't feel like I'm in a brand new atmosphere, everything feels very familiar. Oak Racing is one of the best LMP2 teams out there and I'm honoured to make my WEC debut with them."
Jeff Carter