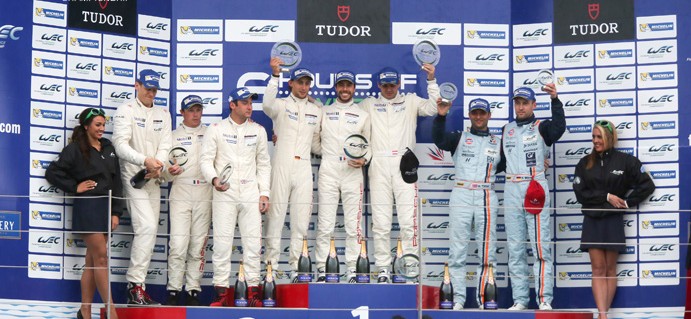 Back
Porsche and Aston Martin finish 1-2 in LMGTE Pro and Am
Today's rain-shortened 6 Hours of Silverstone was a triumph for Porsche Team Manthey who finished first and second in the LMGTE Pro category. 43,000 fans were able to enjoy world-class racing over the weekend from Porsche, Ferrari and Aston Martin, and the German marque came out on top after some close competition as has so often been the case with the GTE cars in the FIA World Endurance Championship.
The No.92 Porsche 911 RSR of Marco Holzer, Frederic Makowiecki and Richard Lietz gave the team the best possible start to its 2014 season by winning 45 seconds ahead of their team mates in the No.92 Porsche 911 RSR (Pilet-Bergmeister-Tandy). Third in class was the No.97 Aston Martin Racing Vantage V8 of Darren Turner and Stefan Mücke and these three, together with the fourth placed No.51 AF Corse Ferrari all finished on the same lap.
Once past the pole-sitting Ferrari of Gianmaria Bruni on lap 12, the two Porsche 911 RSRs traded places for much of the race. The No.91 held the upper hand for the majority of the event but, as the rain got heavier and heavier the team decided to split its strategy and bring one car in to change from drying wet tyres to full wets. It was the No.91 which entered the pits, which turned out to be just before the Safety Car came out and this gave the No.92 the advantage which would see them through to the victory. With conditions getting worse and worse, the Safety Car stayed on track and the Race Director elected to end the race 38 minutes before its scheduled finish time.
In LMGTE Am it was also a 1-2 for a GTE manufacturer but this time it was for the British Aston Martin Racing team. With the team celebrating its 10th anniversary this year and racing in front of a large home crowd at Silverstone, it was a popular victory for the No.95 Vantage V8 of the all-Danish crew of David Heineimeier Hansson, Nicki Thiim and Kristian Poulsen. The trio finished just over a minute ahead of their team mates in the No.98 – Paul Dalla Lana, Pedro Lamy and Christoffer Nygaard. Third in class went to the N.81 AF Corse Ferrari 458 Italia of Steve Wyatt, Michele Rugolo (who won yesterday's LMGTE category in the European Le Mans Series 4 Hours of Silverstone) and Briton Sam Bird who was making his debut in the FIA World Endurance Championship.
The second round of the 2014 championship, the WEC 6 Hours of Spa Francorchamps, will take place on Saturday 3rd May. The classic Belgian circuit is guaranteed to provide everyone with another exciting and thrilling race.
Full results and classifications can be found HERE.
17:35:41 Race will not be resumed
17:34:25 Clock will keep running until Race Director calls for Chequered Flag
17:33:22 Red Flag
17:26:34 #92 Porsche leads GTE Pro after #91 stopped just before safety car period
17:20:17 Safety car - pit entry closed
17:19:55 Nicki Thiim in #95 Aston leads #98 Aston by 15 seconds in GTE Am
17:18:32 Stefan Mucke in #97 Aston up to 3rd place in GTE Pro
17:17:23 Pilet in #91 has 20 second lead over Makowiecki in #92 in GTE Pro
17:15:24 One minute 20 second lead for #26 Morgan over #47 Oreca in LMP2
17:08:28 Rain reported heaviest of the race so far
17:08:04 Both Audi monocoques damaged according to Dr Ullrich - probably 2 new ones needed for Spa
17:06:12 Ferrari #90 had broken halfshaft
17:04:08 Oreca #47 pit stop under investigation
17:02:19 Ferrari #90 retired
16:59:45 One hour to go in the Silverstone 6 Hours
16:58:19 Morgan #26 now leads LMP2 by a minute and 12 seconds from #47 Oreca
16:54:05 Lola #12 into pits - Beche now in car
16:53:15 Porsche #20 into pits - wet tyres put on - Webber stays in
16:51:25 Toyota #8 into pits - wet tyres put on - Buemi in
16:49:59 Toyota #7 into pitlane - wet tyres put on - Nakajima in
16:47:59 Ferrari #52 back to the pits - Parente takes over
16:45:49 Ferrari #52 into gravel trap at Stowe
16:43:45 Aston #95 takes lead in GTE Am from Aston team mate #98
16:38:01 Spots of rain reported in places
16:36:47 Oreca #47 now only 43 seconds behind #26 Morgan after serving penalty
16:31:57 Ferrari #90 stopped at old pit lane entry
16:30:58 2 leading GTE Pro Porsche's in pitlane - Pilet stays in #91 and Makowiecki now in #92
Fiona Miller
Photo: SILVERSTONE CIRCUIT (SILVERSTONE, NORTHAMPTONSHIRE, UK), 6 HOURS OF SILVERSTONE, SUNDAY 20 APRIL 2014, RACE. Top: LMGTE Pro podium, bottom: LMGTE Am winners.