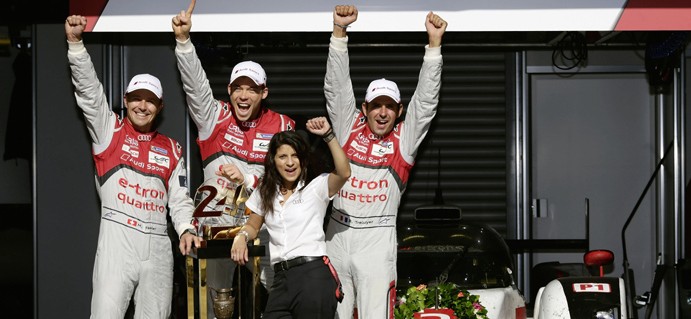 Back
The engineer's view of the 24 Hours of Le Mans: Leena Gade
Fresh from scoring her third career win at the legendary 24 Hours of Le Mans with Audi Sport Team Joest, Leena Gade, the FIA Women in Motorsport Commission's newest Ambassador, took time out from the victory celebrations to explain how, as number one race engineer on the No.2 R18 e-tron quattro of Marcel Fässler, André Lotterer and Benoît Tréluyer, she helped guide Audi to its first victory of the 2014 FIA World Endurance Championship season and why defending her team's 2013 title has become harder than ever.
Was this year's Le Mans a particularly tough race?
"Without a doubt, it definitely was – stronger competition, tough new regulations with big penalties for mistakes and a new car. But actually that helps you to focus more and find the areas you need to keep an eye on. I think it also gives you more drive and desire to win the race. It definitely increases the motivation."
After the accident with car 1, did everyone in the team have to pitch in with the re-build?
"On Wednesday night we always rebuild the cars in preparation for the race, so unfortunately the core crews from cars 2 and 3 were heavily involved in rebuilding their own cars. However, we have a great team of support mechanics and engineers that always back up all three cars, so with a new monocoque in hand, car 1 was rebuilt and all care points for the car completed in good time for rolling it out on Thursday evening.
"Having said that, with the shock of what happened, I think everyone else in the team really pulled together to help support the engineers, drivers and mechanics mentally. Le Mans is a race where if you go into it believing it is lost, that is exactly what happens. Any one of our cars this year had a chance to win, so it was really important that we pulled together and backed each other up. That is definitely one of our strong points."
There were some ups and downs because of turbo issues; was there a moment when you thought the win had slipped away?
"I never stop believing a win is possible until the flag falls, you just can't let doubt creep into your mind. I was aware we were on the back foot at that point and there was a lot of swearing on my part because I knew then we needed a bit of bad luck for the others to be level again. But I also knew what Marcel, André and Ben needed to do, and could do."
What does it mean to take your third victory at Le Mans?
"I think it's still partly sinking in, but it is brilliant. I have to say that when it was announced that Porsche would be coming back, this was one win I really wanted to take. I think it is great for the WEC that three major manufacturers have chosen the series to show off their brands and I hope it continues to grow. It has forced Audi Sport Team Joest to really think outside of the box and push themselves to make sure we are competitive. After all, always being the fastest and on the top of the time sheets means you can become complacent.
"For a few minutes after the race, I couldn't really see what the big deal with winning the race was, but after being stopped by countless fans for autographs and to hear how good the race was from their perspective, I started to realise just what it meant this year. It will still take a bit of time, but I am so proud of my whole car crew for what they all did, a true team effort."
Were there any special preparations for this year's event?
"This year has been much harder than most because the car is new, regulations are much tighter and the penalties bigger, but we still had to deliver a reliable car. There were hard times as always but now that I look back at it I think the hardships we encountered have just made the win that much sweeter. As a team, we've had to share the workload much more and be organised enough to be on top of things which has helped us in the long term preparing three competitive cars."
From FIA Women in Motorsport
Photo: CIRCUIT DES 24 HEURES (LE MANS, FRANCE), 24 HOURS OF LE MANS, POST RACE, SUNDAY 15 JUNE 2014. Race-winning engineer Leena Gade with the victorious Audi R18 e-tron quattro and its drivers.