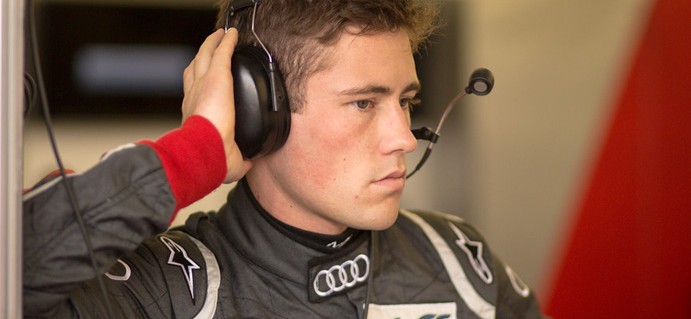 Back
Bahrain test: What the Rookies said
Richie Stanaway, Audi Sport Team Joest (GP2 race winner and LMGTE Pro race winner Aston Martin Racing):
"I only did a few laps this morning but I immediately felt comfortable in the car. This afternoon I did the 30 laps and then the team gave me more time which was fantastic. I got to explore the car more and I really enjoyed the level of grip that the car gave. Benoit (Tréluyer) was very generous with his time and advice helping me, which I appreciated a lot. The regeneration and hybrid system on the car is phenomenal and the acceleration is really something.
"I have to thank the FIA WEC for choosing me to have this experience, it was more than I expected it would be and the expectations were more than matched."
Mitch Evans, Porsche Team (GP2 race winner, LMP2 race winner with JOTA Sport):
"It's great to be back in the Porsche 919 Hybrid and to enjoy this level of technology. The car is really great to drive and it's easy to get confidence in it. I'm learning little things here and there every lap. The car benefits a lot from the four-wheel drive under braking and obviously acceleration. The 919 has got a lot of downforce and the way it looks after its tyres is a lot better than in a GP2 car. The 919 Hybrid is a very refined car, the team has done a great job. Thanks to Porsche and to the FIA who have enabled me to do this rookie test."
Photo: Mitch Evans with Head of Porsche LMP1 Fritz Enzinger
Sam Bird, Toyota Racing (former GP2 race winner and current FIA WEC LMP2 Champion):
"I am very much enjoying working with the TOYOTA team. It is a very professional environment here. My first impressions of the car are very good; I am enjoying having some power again and it is a very technical car to drive. There are lots of things to think about, especially as this is the first time I have ever experienced the fuel flow restrictions. Getting my head around this aspect is critical to my improvement and adjustment with these cars. So far I am enjoying it very much."
Juan Pablo Montoya, Porsche Team (current Indy 500 Champion, former CART champion, F1 Grand Prix winner, Daytona 24 winner):
"The car is amazing, it is currently the most advanced race car on the planet and it is a hell of a toy. I have driven all kinds of cars and this one is a lot of fun. It has a lot of power, is really, really stable and because it is so predictable, it invites you to overdrive it. That's what I found the most impressive thing. In fact the car is so good that you don't realize the speed you're going.
"Beforehand it was a bit shocking when I was given a 30 page manual of how to operate the car, but then it wasn't that difficult. The track here is good and I enjoyed the time here in Bahrain a lot. I came early to get an idea of how the team is doing things. I knew Fritz Enzinger and Andreas Seidl from Formula One days and it was great when they invited me to drive the 919 Hybrid. We don't have any plans for the future, we didn't even talk about it. I came to Bahrain to have fun and drive the hell out of the car and it was great."

Alex Lynn, Toyota Racing (2014 GP3 Champion, GP2 racer):
"When you've got over 1000bhp under your right boot it's a bit special and it more than matched my expectations. Just leaving the pit lane and knocking off the limiter almost gave me whiplash!
"It is a fantastic and I've really enjoyed driving it and I will do some more long runs later in the day to really get bedded in and get a feel for what a full stint can be.
"We had a go in the simulator at Toyota in Cologne and then we got our handbook which gives all the indications on the steering wheel, etc. It reminds me a lot of F1 in terms of the regeneration of the energy, very similar. So, I was sort of accustomed to the systems on the car in some respects. Every lap I am getting more comfortable with the car and I can see why the regular drivers love these LMP1 cars so much because they just keep on giving from a power point of view.
"These are fantastic machines and if I get an opportunity sometime in the future I would love to do FIA WEC and Le Mans."
Philipp Eng, Porsche Team Manthey (Porsche Mobil 1 Supercup and Porsche Carrera Cup Deutschland Champion):
"It's great fun driving the 911 RSR and it is considerably faster than what I'm used to from the one-make series with the 911 GT3 Cup. Still, I felt good in the car right from the start, especially after being very well primed on what to expect by the Porsche engineers. The first time I drove out of the pits it was an overwhelming feeling. I'm very grateful for this chance. To work with a factory team is wonderful."


Nick Catsburg, Porsche Team Manthey (Spa 24 Hours winner, Blancpain Endurance Series winner):
"I'm extremely thrilled to have the opportunity to conduct this test with the best team and the fastest car in the WEC GT class. It's a real privilege. I've driven many cars before, but the 911 RSR is in a completely different league. I felt really good in the car after the first laps already. It must be a fantastic feeling to go racing with the 911 RSR."