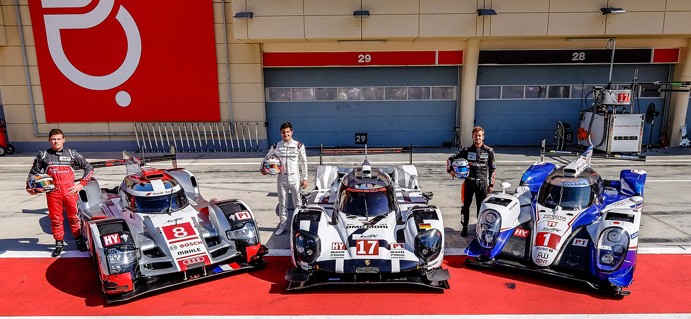 Back
FIA WEC Rookies enjoy time in the limelight
The inaugural FIA World Endurance Championship Rookie Test has come to a successful conclusion in Bahrain, with LMP1 manufacturers, teams and drivers all declaring themselves happy with the outcome.
Of the three drivers selected by the WEC promoter for an opportunity to get behind the wheel of the highly developed LMP1 hybrid prototypes, it was New Zealander Richie Stanaway who set the fastest time of the day in the Audi R18 e-tron quattro. His time of 1:42.134 ensured that he headed his fellow countryman Mitch Evans in the 2015 Championship-winning Porsche 919 Hybrid, the latter's best time of 1:42.946 set in the morning session. All three rookies proved themselves to be on the pace of the teams' regular drivers, with representative times that put smiles on all faces.
As with Stanaway and Evans FIA WEC LMP2 Champion Sam Bird enjoyed more than the 30 allocated laps in the Toyota TS040 HYBRID of Toyota Gazoo Racing, driving alongside a fellow Briton who has also come from the GP2 paddock, Alex Lynn. The latter took part in the Rookie Test at the invite of the team, as did reigning Indy 500 Champion Juan Pablo Montoya who is in Bahrain as a guest of Porsche.
The Colombian got to grips with the Porsche 919 in spectacular fashion, having prepared in the team's simulator, and ended up stopping the clocks fastest overall with a time of 1:40.861 – one second faster than fastest race laps set by Porsche's Neel Jani yesterday in the Bapco 6 Hours of Bahrain.
Thirteen cars took place in the 3-hour test session this afternoon, and they included Toyota's second Porsche in the hands of Anthony Davidson and Mike Conway and the Team ByKolles CLM P1/01 AER with Austrian René Binder experiencing his first laps at the wheel of an LMP1 car.
Of the three LMP2 cars running in today's test, Britain's Matthew Rao set the pace in the No.36 Signatech Alpine A405B-Nissan with a best lap of 1:52.026. He headed three-time Daytona 24 winner Memo Rojas of Mexico in the No.44 AF Racing BR01 Nissan, with Julian Leal Covelli (COL) also having tested in the Russian-entered prototype. Strakka Racing's two test drivers, Tio Ellinas and Lewis Williamson completed a total of 34 laps between them in the team's Gibson 015S Nissan before an engine problem brought their day to a premature halt.
Of the five LMGTE cars testing today, the two Porsche Team Manthey 911 RSRs continued their championship-winning performance by leading the way, with Porsche Supercup Champion Phillip Eng of Austria stopping the clocks this morning with a lap of 2:00.349, 0.2 seconds ahead of Dutchman Nick Catsburg. Experienced WEC racer David Heinemeier Hansson also ran in the Porsche 911 today.
The final three cars on track were all from Aston Martin Racing which was evaluating six drivers from its Evolution Academy programme. Ross Gunn, Jamie Chadwick, Matt Bell, Jody Fanin, Devon Modell and Daniel Lloyd (all GBR) got their first taste of the WEC, alongside Archie Hamilton, Fabian Hamprecht and Salman Rashid Al Khalifa from Bahrain. The British marque's new for 2016 Aston Martin Vantage V8 was also on track, working on a car balance, performance window and data-gathering programme in the hands of Darren Turner and Jonny Adam.
That concludes the running for the WEC for 2015 and attention now turns towards tonight's official end of season prize giving.
Quotes from WEC Rookies to follow.
Photos: BAHRAIN INTERNATIONAL CIRCUIT (SAKHIR, BAHRAIN), OFFICIAL WEC ROOKIE TEST, SUNDAY 22 NOVEMBER 2015. Top (from left to right) Richie Stanaway, Mitch Evans and Sam Bird with their LMP1 hybrid cars for today's test.