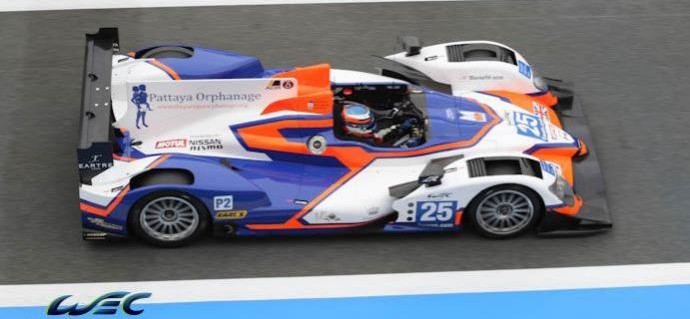 Back
Hour 3: Toyota retakes the lead at Fuji
The race is on ! There's a 14 second gap now between the No.7 Toyota of Nicolas Lapierre, at the front of the field, and the No.1 Audi R18 e-tron quattro of Benoît Tréluyer. The gap so minimal that race lead is changing at each pit stop. The second Audi, currently driven by Allan McNish, has dropped down to a minute behind.
No change among the LMP1 Privateer teams with the No.12 Rebellion Racing Lola Toyota, in Nicolas Prost's hands, remains in command, followed some way back by the two HPD Hondas – the No.22 JRM and the No.21 Strakka racing – with David Brabham dearly defending his second place from Danny Watts. The drivetrain issues affecting the No.15 OAK Racing Pescarolo-Honda, necessitating a reasonably long stop in the pits, was the only notable event of the hour.
The third hour was a lot quieter in the LMP2 class, the top three being the same at the end of the third hour as at the end of the second. After Shinji Nakano's stint, Tor Graves took over in the No.25 ADR-Delta Oreca Nissan and retained control, heading the No.24 OAK Racing Morgan Nissan of Jacques Nicolet by more than 30 seconds and the No.32 Lotus by more than a minute.
The LMGTE classes have both retained the same leader through into the third hour, the No.77 Team Felbermayr-Proton Porsche driven by Marc Lieb dominating LMGTE Pro ahead of the No.51 AF Corse Ferrari. In LMGTE Am, the No.50 Larbre Competition Corvette, Pedro Lamy at the wheel, is reigning over the class by a clear lap over the No.57 Krohn Racing of Michele Rugolo.
Track Data
Air t° :19.3°C
Track t° :20.6°C
Wind :S at 6.4 kph
Humidity :62%
Michelin Green X Challenge Top 3 at the end of Hour 3
2-1-21

RACE FACTS – HOUR 3
13:00:54 : Audi #1 takes the lead as #7 Toyota tangles with #77 Porsche
13:05:54 : Lahaye in Oak Racing Morgan Nissan #24 takes 2nd place in LMP2 from Lotus #32
13:11:06 : Fight back for Darren Turner in the #97 Aston Martin as he is catching the AF Corse #51 to challenge for 2nd place in LM GTE Pro
13:13:20 : Still less than a second separates the leading #1 Audi from second place #7 Toyota
13:15:12 : Spin and rejoin for #15 Oak Pescarolo Honda - back marker of LMP1 field
13:18:53 : #31 Lotus off circuit - local yellow flag
13:20:17 : Leader in LM GTE Pro #77 Porsche into pitlane for routine stop
13:21:55 : Lapierre in Toyota #7 challenges for lead and runs wide - gap up to 2.2s
13:25:51 : Pit stop for #7 Toyota on lap 94 - Fuel only - Rejoins in 3rd
13:36:23 : LMP2 back marker Signatech #23 has one headlight ou
13:37:43 : Dark clouds are gathering over the circuit, but no rain reported yet
13:40:52 : Pit stop for Treluyer in #1 Audi on lap 103 - fuel and tyres
13:42:08 : Long stop for #15 Oak Pescarolo Honda - into pit garage
13:43:18 : Audi #2 into pitlane on lap 105 - Fuel and tyres - Kristensen stays in
13:44:39 : After leaders have pitted, Toyota #7 regains lead with 17s gap
13:45:59 : Spin for Dalziel in #44 Starworks HPD at turn 4 - rejoins
13:50:23 : Last prototype to make a 3rd stop is #32 Lotus
13:55:35 : Approaching half way point, the closest battle on track is the fight for the overall lead, with Nicolas LAPIERRE in Toyota TS030 #7 currently having an advantage of 16 seconds over Audi #1 of Benoît TRÉLUYER.
13:58:31 : Oak racing's Oak Pescarolo Honda #15 remains in pit garage with drive-train problems
Fiona Miller