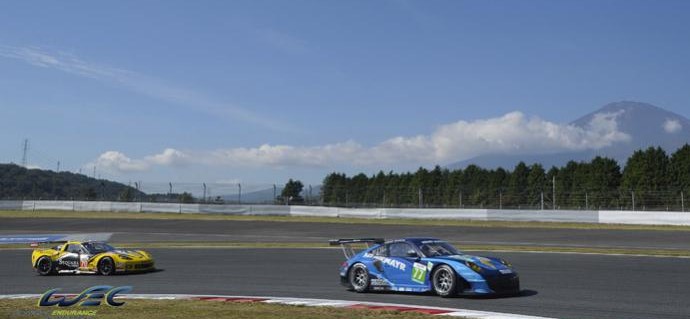 Back
Hour 4: Toyota Make Hay as Audi Falter, Felbermayr Continue GTE Pro Pace
The nr7 Toyota, with Kazuki Nakajima now at the wheel, ended the fourth hour with a one minute advantage after the nr1 Audi collided with the nr97 AMR Aston Martin, meaning Benoit Treluyer had to go to the pits for repairs to a front left wing. A Safety Car period was declared to remove the debris left at the final corner.
It went from bad to worse for Audi when Treluyer was judged to be at fault in the incident and was served with a stop go penalty. This promoted the nr2 Audi of Allan McNish into second place.
Neel Jani continued to lead the LMP1 Privateer class in the nr12 Rebellion Racing Lola-Toyota, 36 seconds ahead of the nr22 JRM HPD
The nr25 ADR-Delta Oreca-Nissan continued to lead the LMP2 category, with Tor Graves now performing the driving duties. At the end of the fourth hour he held a 16 second advantage over the nr44 Starworks Motorsports HPD of Ryan Dalziel.
The nr77 Team Felbermayr-Proton Porsche 911 RSR of Richard Lietz continued to lead the LMGTE Pro class for the fourth consecutive hour, with the nr51 AF Corse Ferrari of Giancarlo Fisichella 23 second up the road.
The LMGTE Am class was the same as it was at the end of the last hour with the nr50 Larbre Corvette of Pedro Lamy holding a 2 lap advantage over the nr57 Krohn Racing Ferrari of Niclas Jonsson.
Track Data
Air t° :16.5°C
Track t° :19.4°C
Wind :SE at 3.2 kph
Humidity :69%
Michelin Green X Challenge Top 3 at the end of Hour 4
2-1-21
RACE FACTS – HOUR 4
14:01:02 : Spin an rejoin for #41 Greaves Zytek
14:10:07 : ADR-Delta Oreca Nissan #25 leads LMP2 with less than 3 hours to go
14:11:58 : Lotterer in #1 Audi runs into back of Aston Martin #97 at Dunlop curves - front damage for Audi. - incident under investigation
14:14:05 : Audi #1 pits for repairs - new nose and rejoins with one headlight out
14:15:17 : Scheduled stop for #7 Toyota
14:15:58 : Safety car deployed - debris removal
14:16:51 : #2 Audi in pits under SC
14:22:24 : Green flag again - Kazuki NAKAJIMA in Toyota #7 leads by 16s
14:26:51 : McNish in #2 Audi was the winner of the SC period, now only about 35s behind 2nd placed #1 Audi
14:29:59 : Battle rages for 2nd place for LMP2 between #32 Lotus and #44 Starworks HPD
14:32:09 : Minor off-circuit excursion into dirt for McNish in #2 Audi - no harm done
14:39:17 : Dice between #24 Oak Morgan Nissan and #44 Starworks HPD, ends with Dalziel in #44 taking 3rd place in LMP2
14:44:59 : Stop and go penalty for Audi #1 for collision with #97 Aston Martin
14:47:48 : Fassler in #1 Audi comes into pitlane to perform stop and go. McNish will take 2nd place in #2
14:50:37 : Contact between #44 Starworks and Audi #2 at Dunlop - damage to Audi
14:53:11 : Incident between #44 and #2 under investigation
14:57:11 : #25 ADR Delta continues to lead LMP2, chased by #44 Starworks HPD - #44 seems unharmed by contact with Audi.
14:59:05 : #77 Felbermayr Proton Porsche leads LM GTE Pro from #51 AF Corse Ferrari only 16s behind
15:00:14 : No action on incident between Starworks HPD and McNish in #2 Audi
Jeff Carter