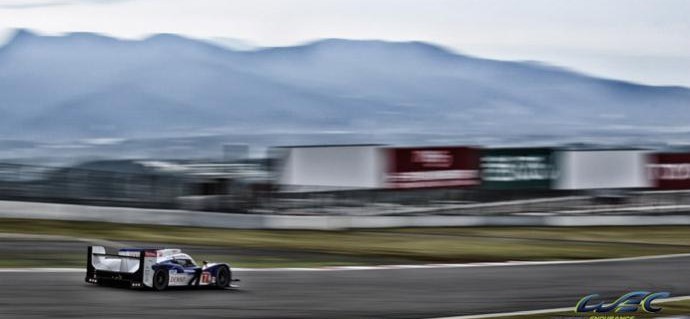 Back
Hour 5: One Hour Remaining and is Toyota on Course for Home Win?
At the end of the penultimate hour the nr1 Audi R18 e-tron quattro of Andre Lotterer was heading the time sheets but mainly due to the fact the nr7 Toyota TS030 of Kazuki Nakajima pitted for the sixth time five minutes before the top of the hour. Before the stop Nakajima held a 61 second advantage. Both cars have stopped six times, but the nr1 had stopped for a Stop-Go in hour four for the collision with the nr97 Aston Martin. The nr2 Audi continues to hold third place.
The nr12 Rebellion Lola-Toyota of Neel Jani has a 66 second lead in the LMP1 Privateer class over the nr22 JRM HPD of Karun Chandhok, who was slightly delayed when the Indian driver had a tap with the nr1 Audi when Lotterer was attempting to pass.
The nr25 ADR-Delta, now with John Martin back at the wheel, continues to hold the lead in LMP2, with a 12 second advantage over the nr44 Starworks Motorsports HPD of Stephane Sarrazin, who is on course to take the title in the LMP2 Teams FIA Endurance Trophy.
Marc Lieb continues to circulate at the head of the LMGTE Pro class in the Team Felbermayr-Proton Porsche, 31 seconds ahead of the nr51 AF Corse Ferrari of Gianmaria Bruni. The LMGTE Am class continues to be a one horse race with the nr50 Larbre Competition Chevrolet Corvette of Patrick Bornhauser holding a two lap advantage over his nearest rival.
Track Data
Air t° :16.2°C
Track t° :19.4°C
Wind :S at 3.2 kph
Humidity :73%
Michelin Green X Challenge Top 3 at the end of Hour 5
2-1-21
RACE FACTS – HOUR 5
15:00:14 : No action on incident between Starworks HPD and McNish in #2 Audi
15:06:37 : Toyota #7 into pits for fuel-only stop Kazuki NAKAJIMA stays on board
15:09:01 : #7 Toyota rejoins in 3rd but Audis yet to pit. Will need at least 2 more fuel stops before finish
15:14:06 : #1 Audi into pitlane - fuel, tyres and driver change.
15:15:03 : McNish into pits in #2 Audi and hands over to Tom Kristensen
15:17:03 : #2 Audi Kristensen just holds 2nd place on rejoining in front of #1 Audi
15:18:16 : Lotterer in #1 Audi re-takes Kristensen in #2
15:19:08 : Rain reported at turn 10
15:23:52 : Lotterer sets fastest lap for #1 Audi - 1:28.391
15:29:11 : Neel JANI in #12 Rebellion Lola-Toyota continues in 4th overall and top privateer, followed by Rebellion #13 in 5th
15:35:18 : Darren Turner in #97 Aston Martin is still in touch with (2nd in class) #51 AF Corse Ferrari with 1h26 remaining.
15:39:30 : Minor off circuit excursion for Elton JULIAN in #41 Greaves Zytek
15:42:02 : After pit stops for both #51 Ferrari and #97 Aston Martin, the AF Corse #51 maintains 2nd place in LM GTE Pro
15:45:25 : Minor contact between #1 Audi and #22 JRM - Incident under investigation
15:48:14 : Kevin WEEDA in #32 Lotus has slipped to 4th in class and being challenged by Olivier PLA in #24 Oak Morgan Nissan
15:51:31 : Toyota #7 lead from 2nd placed #1 Audi has grown to over a minute.
15:54:13 : Leader into pitlane. #7 Toyota gets fuel and tyres - will need 1 more stop
15:57:14 : Spin and rejoin for Harold PRIMAT in #13 Rebellion at turn 15 - no obvious harm just lost time
16:00:35 : Kazuki NAKAJIMA in #7 Toyota runs very wide off-circuit in passing the #57 Krohn Ferrari