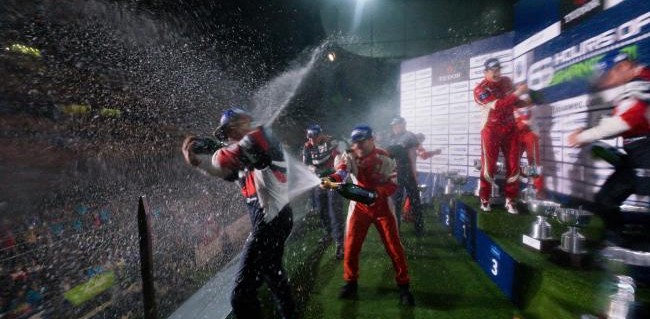 Back
What the Drivers Said after the 6 Hours of Shanghai
What the Drivers Say…after the 6 Hours of Shanghai
It was another riveting FIA World Endurance Championship encounter at Shanghai. The action was thick and fast, but after the duels come the analysis. Read the main players assessment of a fascinating 6 Hours of Shanghai.
Brendon Hartley – Porsche Team #17
"It was an interesting first lap and it was a question of how much boost we used, but I had a lot at the end of the lap. But there was a bit of contact halfway through the first lap. Other than that it was actually smooth sailing through the stints but it got tricky at the end of the second Full Course Yellow because a lot of water came down, and conditions were on the limit. All three of us today and the team made perfect calls, kept it on the road, looked after the car. To be part of this team and to get the Manufacturers' Championship is great and I am completely honoured to be part of this team."
Mark Webber – Porsche Team #17
"I've been involved in some pretty big projects but this achievement is incredible," said Webber after the race. "To come in to this level of racing and get the results we have had is really hard to produce these types of cars and this kind of performance week-in and week-out."
"Everyone at Weissach and everyone involved in the program from the start have had a great interpretation of the regulations and we have stuck to our guns. It is a big, big thing for Porsche, great for the brand and for us guys it's a real blast."
Marc Lieb – Porsche Team #18
"It was unfortunate to have a spin in corner seven but I was just lucky not to get hit by any other cars really. The problem was that afterwards I couldn't re-start the car so it was quite difficult. I was so close to Brendon (Hartley) at the start and then I got hit by Andre (Lotterer) but we had a chat afterwards so all is clear with that and there are no worries at all. Then we were dead last but the Safety Car helped for sure and then it was just fighting back and fighting through. My team mates did a fantastic job as well so it was a good P2 position at the end."
Marcel Fassler – Audi Sport Team Joest #7
"It was actually quite difficult out there to make the right choice (of tyre). The moment we took the slicks I wasn't really sure if it would be the right choice but it definitely was at the end and the lap times showed it immediately and yes we had to push as much as possible, sometimes taking a lot of risk too. I need to apologise to the Porsche GT team and to (Patrick) Pilet because I touched him and for sure it was not on purpose and I apologise for that. Luckily my car was still in a good shape and we tried to get the best out of it. The championship is still not completely lost so we still have a chance."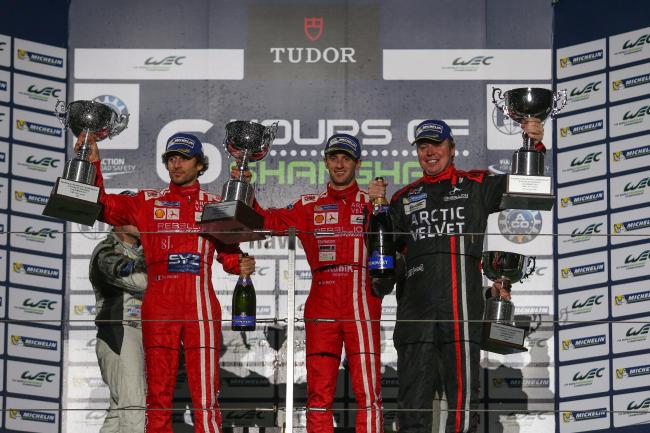 Mathias Beche – Rebellion Racing #12
"We are always pushing really hard and extract the best from our package. It was a really difficult for us but we are happy at the end. I did a mistake at the end which is not common for me and I want to apologise to the whole team and I felt really bad as it is the first time I hit the barrier. The boys did an incredible job to repair and I just want to thanks them because we got the win because of them."
Tom Dillmann – Signatech Alpine
"It was my first laps in an LMP car on Friday and to be on the top step of the podium is amazing. I have to thanks the team because they made the transition very easy and I could get up speed very easily and my team mates helped me as well in my first race in LMP2. To win with Alpine with all of its French history it is great."
Richard Lietz – Porsche Team Manthey #91
"After qualifying we hoped for rain or very hot conditions as we know that Ferrari cannot use their soft tyres and as it turned out the rain stayed longer and we were good with the rain tyres. As soon as we changed to slicks we struggled a little bit, so the rain helped us a little bit today and the team did a good job and we made no mistakes so we are really happy."
Francois Perrodo – AF Corse #83
"We are very happy obviously. It was drying when I got in the car but it was still a little bit greasy and if you got off the line it was difficult to manage and you had to be sensitive on the throttle and I am someone who is not a pro and I have rarely driven in those conditions so it is difficult. I had a healthy margin and I tried to keep it.
"We have had some bad luck in previous races where things have gone wrong, but we knew we had the pace and finally it has happened this weekend and we are thrilled."