Back
What the LMP1 Privateer and LMP2 winners said at COTA
DOMINIK KRAIHAMER – Rebellion Racing
"I knew that it would get hot, but not that hot! I wasn't prepared 100 per cent for that kind of heat. After five laps I was already looking at the fuel numbers on the dashboard to counting down from 40 and it took flipping ages.
"It was not a bad first stint but towards the end I had a really tough time to concentrate and stay on track.
"The finish of the race was less hot but we had some issues with the car handling so it was not any less demanding I was fighting a lot.
"It was maybe one of the toughest days I've had on the race track until now. The mechanics, everybody did a fantastic job with 36 degrees weather. It was super tough in those suits with the fireproof underwear.
"Don't get me wrong, I really like Austin but I'm happy to fly home tomorrow."
ALEXANDRE IMPERATORI – Rebellion Racing
"The target was to have a clean race with competitive pace and make no mistakes.
"In this kind of heat you can't take that for granted. It was a good job by my team and my teammates also did a fantastic job all weekend.
"We didn't have any issues with the car or the drivers all weekend so I'm really happy.
"It is job done – I'm looking forward to the next one."
MATHÉO TUSCHER – Rebellion Racing
"The look on our faces doesn't show what it was like in the car. It was pretty hot and hard to stay focused. For me the heat wasn't the main problem, I had some problems with my seat and it would get really painful.
"Once I made some changes for my double stint it was OK.
"We did the job. The main target was no risk, just bring it home on a good pace. All of us did what we had to do.
"Stay on track, keep recording good times and the team did a super job."
NICOLAS LAPIERRE – Signatech Alpine
"My start was not great. I started from pole position but I lost a position but our car was the best in the field by far so we could get the position back, overtake him and open the gap.
"My two teammates did what we have to do and this race strategy was just perfect. We finished with more than one lap gap so that was a great weekend for us."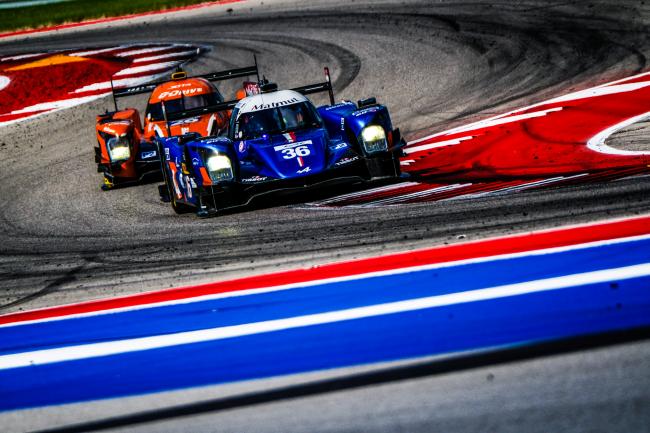 STEPHANE RICHELMI – Signatech Alpine
"Everyone did a really good job this weekend. From the beginning of the free practice we had a really good car. Guztavo and me had to learn the track but we had the help of Nico and the team we learned quickly.
"These two guys did a great job to get the pole. Nico did a great job to hand me the car in the lead.
"We planned to do two stints but I didn't think it was so hot. I didn't want to do five laps less because if you go for a double stint you have to keep going because if you finish early you really mess up the strategy.
"I was pushing hard to do my best."
GUSTAVO MENEZES – Signatech Alpine
"This one is definitely a little bit more special for me because it is my home race.
"It has been a long time since I have been able to compete in the States.
"Having that opportunity and to finish the race was exceptional. I have to give it to my two teammates who did an incredible job.
"The heat of the day was insane. As soon as we arrived at the circuit we knew it was going to be a long day. The team did an incredible job. Every stop, every part of the strategy was great and that helped us with that advantage.
"We just chipped away to the top."
Photos by Adrenal Media