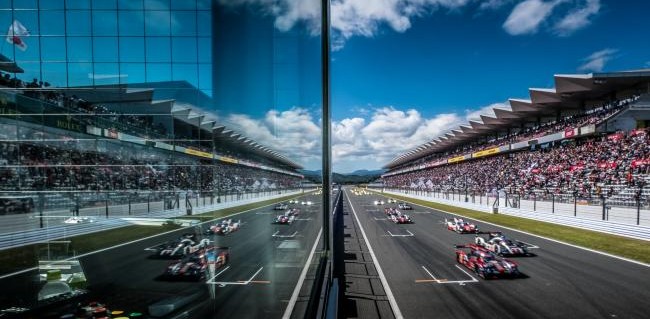 Back
Where to see all the thrills of the 6 Hours of Fuji again
The 6 Hours of Fuji was a breath-taking thriller from start to finish, and is already being spoken of as a standout race of the season.
Toyota Gazoo Racing claimed its first victory for nearly two years, in front of 53,200 passionate Japanese spectators, but not without a battle from flag to flag with both Audi and Porsche. The race for honours and maximum points in LMP2 was equally hot with G-Drive Racing finally claiming the win, while Ford Chip Ganassi Racing Team UK took its first WEC win in LMGTE Pro. Aston Martin Racing took its fourth LMGTE Am victory of the season, to close the gap in the title chase.
If you missed the race on TV yesterday, or want to see some of the most thrilling FIA WEC racing again in your own country, here is a comprehensive list from our TV broadcast partners to help you.
ASIA AND AUSTRALASIA
See Toyota Gazoo Racing race to glory at its home track via FOX Sports Pan Asia – check your local area for details. China's CCTV 5 channel will show free to air news edits on its Autotimes magazine programme and highlights on LeTV.
JAPAN
J-Sports 3 will show the full 6 Hours of Fuji eight more times, beginning on 18 October and repeated daily from 22-26 October with two more broadcasts on 29/30 October. Additionally, the BS Fuji channel will show highlights on the 29 October.
AUSTRALIA AND NEW ZEALAND
FOX Sports Australiawill broadcast the top highlights from the race today and tomorrow, while New Zealand's TV3 channel will also show the 52 minute highlights programme on CRC Motorsport on 23 October.
EUROPE
Continuing their full commitment to the WEC, race highlights will be shown on Eurosport 1 and Motors TV across Europe, and on L'Equipe 21 in France on 20 October, reflecting the ever-increasing interest in the WEC and endurance racing.
BELGIUM AND SWITZERLAND
RTBF will air news edits throughout the weeks beginning 17 October, as will the SRF 2 channel in Switzerland.
GERMANY AND NETHERLANDS
The country's RTL channel will show brief highlights across the German, Austrian and Swiss regions on 22 October during their F1 show. RTL7 and Ziggo Sport will broadcast highlights across the country.
FRANCE
L'Equipe 21's 4.4 million viewers will have the opportunity to see some of the world's best endurance racing again with the WEC's highlights package being shown on 20 October.
UK
Britain's ever-growing endurance racing fan base can watch the action again five further times on BT Sport, starting from 17 October, while Quest TV will also broadcast the highlights multiple times to its 29 million homes. One of the UK's five main channels, Channel 4, will also show the official highlights package on 22 October.
OTHER BROADCASTS
SuperSport will show the race highlights multiple times across the Pan-Africa region, as will BeIn Sports in the MENA area.
The full 52 minutes will be shown on the FIA WEC APP, the best place to see all the action live and delayed, together with latest news, special interviews and much more.